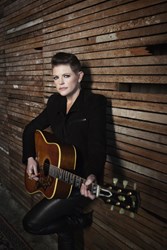 I wanted this music to be very different from the Dixie Chicks.
Napa, CA (PRWEB) September 10, 2013
Fans have been waiting patiently for new music from the always provocative, multi-platinum, Grammy-Award winning, Natalie Maines. After much anticipation, Natalie Maines of The Dixie Chicks released her debut solo album, MOTHER on Columbia Records May 7, 2013. As a member of the Dixie Chicks—the best-selling female group of all time—she has sold over 30 million albums and won 13 Grammy awards. But the ten songs on MOTHER reveal different sides of one of the most acclaimed voices of our time.
On MOTHER, people will hear a new direction from the singer. Heavily influenced by the more rock-based, edgy and intense sound of the title track, and Pink Floyd cover, "Mother," Maines teamed up with friend and Grammy-winning singer, songwriter, and guitar wizard Ben Harper, who co-produced the record with Maines. The album was recorded in Harper's studio. "I wanted this music to be very different from the Dixie Chicks," she says. "Lots of albums by lead singers might just as well have been made by the band, but I think this is very different from anything the Chicks could make. That separation and distinction was important."
Tickets for Natalie Maines are $40. They are on sale now and can be purchased through the theatre website at http://www.uptowntheatrenapa.com, at Ticketmaster (http://www.ticketmaster.com) or at the theatre box office (please call 707.259.0123 ext. 6 for hours). To find out more, please visit http://www.uptowntheatrenapa.com.
The Uptown Theatre Napa is downtown's ultimate destination for live concerts. Nestled in the famed West End district, this stunningly restored art deco masterpiece showcases only the finest acts, featuring music, comedy and more. An historic landmark, the Uptown offers a phenomenal, intimate live show experience, with excellent site lines and world class sound and lighting. As concert venues go, this is the place to be. Every seat is a great seat so buy concert tickets now!