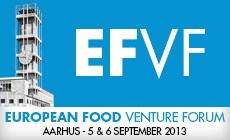 Brussels, Belgium - Aarhus, Denmark (PRWEB UK) 11 September 2013
Last 5th and 6th of September, the European Food Venture Forum (http://www.e-unlimited.com/efvf) took place at the iNANO Center in Aarhus, Denmark. The third edition of the European Food Venture Forum (EFVF) has been an exciting platform for people from all corners of the food industry. Over 100 participants have networked and gathered during the two days company presentations, keynote speeches, discussion panels and one-to-one meetings.
Over 30 jury members, consisting of both investors and industry experts, have reviewed the 18 company presentations and have selected 5 award winners.
The award winners qualified to continue along the European Venture contest; a pan-European contest of venture events that gathers the best of each edition to join the European Venture Summit, Europe's largest venture capital match-making event, taking place on 9 and 10 December 2013 in Düsseldorf, Germany.
Below are the names of the award winners of EFVF 2013:

Scientific & technical research & development of procedures and products related to the artificial rearing of insects.

Processing company which utilises new technology to manufacture fish oil and fish meal from rest raw material .

Flatev is revolutionizing the way people prepare fresh tortillas at home.

Isosteviol, Aarhus University. Dept. of health and Technology Transfer Office [DK]
Isosteviol elevates plasma HDL-cholesterol level - a potential new drug for the treatment of coronary heart disease.

Enhancing food safety from producer to consumer: Food safety analytical instruments.
Go to http://www.e-unlimited.com/efvf to learn more about the award winners and the other companies that have presented at this year's European Food Venture Forum.
For further information please contact:
Annalisa Gardella at annalisa(at)e-unlimited(dot)com or call +32 2 643 36 91
Note to the editors
About Europe Unlimited
E-Unlimited is a private Brussels-based champion in entrepreneurship support. E-Unlimited is the organization behind the European Venture Contest, Europe's most effective contest for technology entrepreneurs seeking international venture capital; the International Venture Club, a global collaborative network of independent, corporate and institutional investors; the TechTour, Europe's leading platform for growth stage entrepreneurs and investors; and several other pan-European initiatives in collaboration with regional and national development bodies and the European Commission.