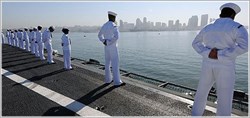 San Diego, CA (PRWEB) September 12, 2013
The San Diego military divorce lawyers at the Men's Legal Center have been representing fathers, husbands, and non-custodial parents who have encountered family law issues including divorce, child custody, child support, property division and matters that relate to military divorce and benefits for many years.
The New York Times article, "V.A. to Provide Spousal Benefits to Gays, Administration Says," published on September 4, 2013, reveals that the executive branch of the federal government has directed the Department of Veterans Affairs to provide spousal benefits to spouses of its members who are of the same-sex. The Men's Legal Center would like to help make the public aware of this directive as it could affect many people.
In the article the Attorney General Eric Holder has sent a letter to the Congressional leaders stating that the President of the United States had directed the executive branch to stop enforcing a federal statute that limits spousal benefits to veterans' spouses who are members of the opposite sex.
The article goes on to state that the executive branch is taking this step because of the recent United States Supreme Court decision that struck down provisions in the Defense of Marriage Act, or DOMA, that were ruled as unconstitutional. One of those provisions in DOMA stated that a valid marriage was one that involved one man and one woman. The executive branch feels that the law governing veterans' spousal benefits limiting benefits to heterosexual couples is unconstitutional.
Mr. Holder in his September 4, 2013 letter to the Congressional leaders wrote, "In the meantime, continued enforcement would likely have a tangible adverse effect on the families of veterans and, in some circumstances, active-duty service members and reservists, with respect to survival, health care, home loan and other benefits."
Craig Candelore, the founding attorney at the Men's Legal Center states, "Opening up spousal support benefits to same-sex couples may ultimately affect military divorce, property division within military divorces and other aspects of these cases could change rapidly now that certain provisions in DOMA have been ruled unconstitutional. Current and former members of the military who could be affected by these changes need to make sure they understand their legal rights before moving forward."
About the Men's Legal Center
The Men's Legal Center is a law firm comprised of San Diego divorce lawyers who have been representing clients who have been facing California family law issues including divorce, child support and spousal support controversies, property division questions and child custody challenges. The firm also has attorneys on-hand who have extensive military experience; and therefore, provide representation to those who face military divorce issues and other family law situations while they are members of the military.