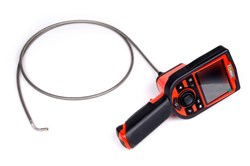 JT-Alpha is a light, compact hand-held bore scope that greatly enhances both productivity and safety of remote visual inspections as it takes very little space while eliminating the need for extra equipment and cables
Minneapolis, MN (PRWEB) September 17, 2013
Medit Inc, one of North America's most reliable online suppliers of NDT (non-destructive testing) equipment, is happy to introduce a new device in their line of products available for purchase on line – JT Alpha.
These compact hand-held bore scopes feature more advanced characteristics than one would expect to see in v ideo scopes of this size. One of the most important is a breakthrough 15 mm rigid distal end of a highly durable stainless steel braided flexible insertion probe, that offers greater maneuverability and pushability in narrow, obstructed or curved pipes and spaces. Probes come in a variety of lengths and diameters to match each specific application.
Another unique feature that makes JT-Alpha stand out from other models of its class is a four-way joystick controlled operation. With its ergonomic gun-like design and joystick and control buttons located within easy reach under the user's fingertips, this bore scope offers intuitive single-handed operation, which is especially important if one has to work in tight working spaces.
Built-in super intense LED lights and high-resolution CMOS image sensor deliver clear, accurate, detailed images of the area of interest, which then can be viewed on a built-in 3.5" TFT LCD monitor or saved to an 8GB SD card for further analysis.
"JT-Alpha is a light, compact hand-held bore scope that greatly enhances both productivity and safety of remote visual inspections as it takes very little space while eliminating the need for extra equipment and cables" – Terry Peristerakis, Medit Inc. Sales manager
About Medit Inc.
MEDIT Inc., located in North America, is one of the most trusted online suppliers of Remote Visual Inspection equipment. Successfully operating in medical, industrial, veterinary and consumer markets it is fast becoming one of the largest players in the industry, offering latest and optimal solutions for RVI professionals. The company serves clients in 38 countries and has a growing network of international distributors, offering rigid and flexible bore scopes, videoscopes, endoscopes and pipe cameras as well as a full line of accessories.