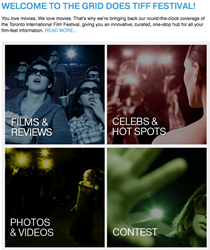 "The fact that Grolsch has reupped this year really proves the unique value we brought to the table last year." - Laas Turnbull, The Grid's Publisher and Editor-in-Chief
Menlo Park, CA (PRWEB) September 12, 2013
The Grid, a division of Toronto Star Newspapers Limited, and Arktan today announced their extended partnership around this year's Toronto International Film Festival (TIFF), followed by other events. The extended partnership follows a successful collaboration between the two companies, Blackdigital and Grolsch during the 2012 TIFF.
TheGridDoes.com/TIFF-Festival will be again the destination site for film fans to interact with editorial and curated social content around the event, which runs from September 5-15. The site's content, optimized for mobile viewing, is divided into distinct sections covering everything from films to celebrities to hot spots.
Blackdigital will be the design partner of the site, while Grolsch, the inaugural sponsor of last year's TIFF program, will again be the brand sponsor of the site.
TheGridDoes.com/TIFF-Festival contains original content from dozens of bloggers, as well as real-time social web content and conversation extended to the site by Arktan SocialStreams. SocialStreams curates the real-time streams ensuring that only the most relevant and highest quality content is delivered for fan interaction.
"The fact that Grolsch has reupped this year really proves the unique value we brought to the table last year," said Laas Turnbull, The Grid's Publisher and Editor-in-Chief.
Rahul Aggarwal, CEO and Co-Founder of Arktan, added that "Arktan is excited to expand our partnership with The Grid. We are looking forward to taking The Grid's social experiences live for the 2013 TIFF and future global events."
The Grid is Toronto's weekly city magazine. For two years running, it has been named World's Best Designed Newspaper by the Society for News Design. The Grid is focused on providing unique value to its clients through cutting-edge brand integrations.
About Arktan, Inc.
Arktan is a leading provider of innovative real-time social curation and conversation products for media, entertainment, TV, sports, and consumer brands. Arktan has earned a reputation among customers as a strategic partner with innovative technology solutions, and excellent customer service. Arktan is powering real-time social experiences for leading brands, including Universal Music Group, Sony Music, Warner Music, TNT, TBS, ABC, CBS, NBC, Univision, WWE, The Washington Post, Bell Media, Toronto Star, and Sonos.