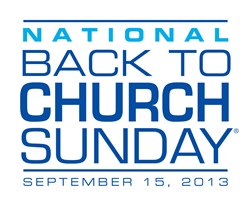 82% of people said they would attend church if someone they knew invited them, but only 2% of church members were inviting people to come with them.
--Scott Evans
Colorado Springs, Colo. (PRWEB) September 11, 2013
This Sunday, September 15, more than three million Americans are expected to attend special services at one of the nearly 21,000 churches across all 50 states who have indicated they will participate in National Back to Church Sunday®.
Now in its fifth year, the event continues to pick up momentum this year again, setting new records for participation as over 8,000 more churches signed up than last year on the live online roster at backtochurch.com.
Estimates for attendance this year draws on results from the survey following Back to Church Sunday 2012, when survey respondents reported a 38% increase in their Sunday attendance over usual average attendance.
Those significant increases in attendance may have something to do with why 96% of 2012 respondents also indicated their interest in participating again this year.
"Each year, we've been excited to see the enormous increase in the number of participating churches as people get on board with the vision of National Back To Church Sunday," said Scott Evans, founder and CEO of Outreach, Inc., the nation's leading provider of church communications resources that helped launch the initiative.
"The movement was started with two stunning statistics: 82% of people said they would attend church if someone they knew invited them, but only 2% of church members were inviting people to come with them to their church. We wanted to make it easy on everyone and open church doors wide across our nation to welcome people back to church."
At http://www.backtochurch.com, those looking for a church to attend can check the roster to see what churches in their community are participating. More information is also available at the Back to Church You Tube Channel and the Facebook page, which has garnered 60,000 likes in about seven weeks.
National Back to Church Sunday is the largest annual community-based church outreach effort in the nation, when thousands of churches share the simple message and mission of inviting everyone in America Back to Church. The campaign empowers churches and church members with the tools they need to welcome their neighbors, friends and loved ones back to church, while providing an easy way for everyone in the community to find a welcoming church.
# # #