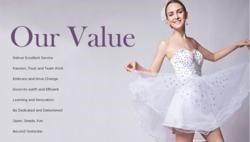 (PRWEB) September 12, 2013
Dresses1000 has recently released its new collection of short prom dresses; these outfits sell very well in the market. Now, the company is announcing all custom made short prom dresses (http://www.dresses1000.com/short-prom-dresses_c56/15) are also available without any extra cost for every customer before Sept. 20, 2013.
Dresses1000's wedding dresses are famous for the gorgeous looks and delicate craftsmanship. Now, the short prom dresses have also attracted many people's eyesight for the fashionable designs. The current special offer entitles every shopper to a 56% discount off any custom or ready-made dress. The company expects a great avenue for increasing exposure as well as similar business opportunities.
"We are excited to offer the custom made short prom dresses at low prices. At Dresses1000, each dress is a treasure and customers are satisfied knowing their investment is cherished. We hope the buying of high-quality prom dresses at Dresses1000 must be a fantastic shopping experience. We promise that each lady will have an elegant new look when she wears any of our dresses," says Sherri Wang, CEO of the company.
Furthermore, Dresses1000 is offering a huge selection of yellow Quinceanera dresses, formal evening dresses, graduation dresses, vintage evening dresses and more. For those looking for special-occasion dresses, they can own their favorite dresses with some clicks of a mouse now.
About Dresses1000.com
Dresses1000.com is a professional manufacturer and retailer of all kinds of women's dresses (wedding dresses, bridesmaid dresses, and more). It is devoted to fashion industry wit hits mission of 'making ladies more attractive' by offering stylish and high-quality women's dresses to each woman.
More details at http://www.dresses1000.com/.