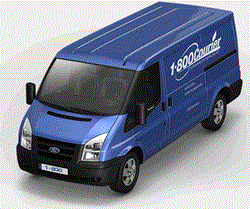 Atlanta, GA (PRWEB) September 13, 2013
1-800 Courier, a recognized leader in same-day delivery, messenger and transportation services, announces wait time for courier services. The announcement comes in an effort to inform customers of their value-added services, increase actual delivery performance rates, and increase sales growth. 1-800 Courier pursues to be the best choice for same-day delivery solutions nationwide.
1-800 Courier wait time for courier services are available to assist its customers in successfully delivering their package or freight. The wait time that is provided with each service 1-800 Courier performs is ten minutes. This wait time is at no additional cost to the customer. This time frame allows the contact at the pick up or destination location to give the driver the correct package or freight. This also allows for the customer to bring the item to the receptionist or security desk if the contact person is located on a separate floor.
For any waiting by the driver after the initial ten minutes, 1-800 Courier will apply a $.75 wait time charge per minute. On the eleventh minute, The wait time charge begin and is then retro-rated back to the first minute as well. The charge is instituted as a result of compensating drivers for the their wait time, as their compensation primarily results from their daily deliveries. Every customer is made aware of 1-800 Courier wait time charges at the time of order placement.
Wait time is offered by 1-800 Courier as an effective tool in the circumstances where their customers have a deadline and must have their package delivered. Customers can contact 1-800 Courier and/or inform the driver directly to wait while their package is prepared. As a result, customers can have the peace of mind with 1-800 Courier that the driver will not leave the pick up location without their time-sensitive package. The New York Courier creates same-day delivery solutions that result in a superior courier experience.
1-800 Courier is a premier same-day courier offering transportation and distribution services. From small packages to palletized freight, 1-800 Courier delivers fast. As a leader in the courier industry, their goal is to perform optimal courier logistic solutions and superior customer service every time. The courier service provides same-day delivery successfully for over 1,500 clients, including Fortune 500 companies throughout the US.