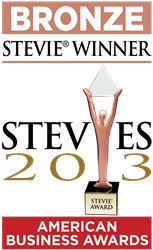 The credit for this award goes to the GoECart team for their unwavering commitment to innovation, results, and exceptional customer service even in the face of global economic and environmental challenges.

--Manish Chowdhary, CEO, GoECart
Bridgeport, CT (PRWEB) September 18, 2013
GoECart is pleased to announce that it has won a highly esteemed Bronze award in the 11th annual American Business Awards competition. The multi-channel ecommerce solutions provider was selected for the Company of the Year Award in the Computer Software category for companies with up to 250 employees.
The American Business Awards are the nation's premier business awards program. A record number of nominations were submitted this year with more than 3,200 from organizations of all sizes and from virtually every industry. Finalists were chosen by more than 140 business professionals nationwide.
"We are deeply honored to receive this major award from the ABAs. This has been such a remarkable year for GoECart on so many levels. The credit goes to the GoECart team for their unwavering commitment to innovation, results, and exceptional customer service even in the face of global economic and environmental challenges," GoECart's CEO Manish Chowdhary said.
Last year, GoECart officially announced a revolutionary new ecommerce suite, GoECart 360, which provides multi-channel merchants with all of the tools needed to run an online business, including:

All-in-One Ecommerce–Ecommerce platform, order management, inventory management, and CRM work together like clockwork to provide the ultimate solution for online retailers.
Amazon® and eBay® Integration – Merchants automatically stream product inventory to these sites and orders synch up seamlessly with GoECart.
Multi-Site Capabilities –Multiple branded sites and microsites can be used to boost SEO and cater to multiple markets and audiences, such as B2B, B2C, and International.
Advanced Personalization – Personalization engine leverages Adobe® Scene7® so retailers can offer highly customized products (e.g. engraving, monogramming, etc.).
Full Sales Tax Compliance Ready – GoECart certification with market leader Avalara® AvaTax® gives merchants end-to-end sales tax compliance ahead of the Marketplace Fairness Act of 2013.
Distributed Web-based Order and Inventory Management – Merchants can use the built-in distributed order management system for picking, packing, shipping, drop-shipping and receiving orders and inventory, including bar-coding automation without need for expensive third-party systems.
GoECart 360 has led to outstanding results for GoECart customers. Just in the last year, dozens of merchants have successfully consolidated from an average of three systems to a single instance of GoECart 360 fueling both sales growth and substantial savings by migrating to a modern cloud-based retail suite. GoECart's seasoned professional services team complements the software via rapid implementation, custom training and SEO preservation and improvement programs which gives merchants the confidence that their ecommerce re-platforming project will be handled quickly and professionally with minimum business risk.
"So many remarkable stories of success and innovation were told in the nominations submitted to this year's American Business Awards," said Michael Gallagher, president and founder of the Stevie Awards. "We congratulate all of this year's Stevie Award winners, and thank them for the inspiration provided by their achievements."
The ABAs are a subsidiary of the Stevie Awards. This year's Stevie® Award winners in the new product and technology-related categories were announced on September 16 at the Julia Morgan Ballroom in San Francisco, California.
About GoECart:
GoECart® provides integrated, on-demand ecommerce solutions that empower retailers to sell more goods and services more efficiently. Our flagship, all-in-one ecommerce suite, GoECart 360, combines a powerful ecommerce storefront with multi-channel order and inventory management, fulfillment, CRM, and much more. GoECart 360 enables merchants to sell across all major customer touch points-web storefronts, "brick and mortar" stores, call centers, mail order catalogs, and the leading online marketplaces like Amazon and eBay. We help companies grow revenues, automate business processes, lower IT costs, and achieve greater profitability.