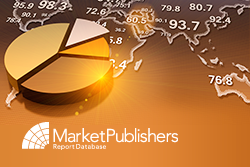 London, UK (PRWEB) September 12, 2013
MarketPublishers.com announces that a new research report on the zinc dust (CAS 7440-66-6) market prepared by BAC Reports is now available in its catalogue.
The newly published report "Zinc Dust (CAS 7440-66-6) Market Research Report 2013" is an essential source of qualitative and quantitative information on the world zinc dust market. It contains a comprehensive product profile, encompassing critical information on zinc dust composition and ingredients, identifying its hazards and discussing storage and transportation requirements. The report provides an extensive assessment of the major zinc dust application areas and discloses important patent information.
The research study offers unbiased insights into the present state of the zinc dust market and characterizes the competitive landscape. Detailed profiles of the top and niche market participants are available in the report along with a review of the world's main zinc dust consumers. The study also presents valuable data on the current product prices across the key geographical markets.
Report Details:
Title: Zinc Dust (CAS 7440-66-6) Market Research Report 2013
Published: September, 2013
Price: US$ 2,650.00
http://marketpublishers.com/report/industry/chemicals_petrochemicals/zinc_dust_7440-66-6_market_research_report.html
The regional zinc dust markets covered in the report include: Europe, Asia, North America, Latin America, Oceania, Middle East and Africa.
To name but a few companies profiled in the report: De Craene N.V., UMICORE Norway A/S, Norzinco GmbH Harzer Zinkoxide, Asturiana de Zinc S.A., Foshan Duomi Metals Material Co., SB Chemical Co., Pinkto Chemicals Pvt., Almalyk Mining & Metallurgical Complex JSC, Transpek-Silox Industry Limited, Avantor Performance Materials, Sigma-Aldrich Corp., Doe Run Peru, MEB Metal ve Bìlesìklerì San. Tìc. Ltd. Stì., Zinchem a Division of Zimco Group and Votorantim Metais.
Reasons to Buy:

In-depth insights into the global zinc dust market allow one to make informed business decisions.
Comprehensive product profile enriches significantly one's knowledge of zinc dust.
Extensive analysis of the key product application areas assist in determining the most promising sectors and, thus, in creating effective business strategies.
Description of the competitive scenario helps to evaluate the competitive pressure in the market and to elaborate strategies for gaining a competitive edge over the rivals.
Detailed company profiles provide essential information on the key and niche market players and help to find prospective business partners.
More CAS chemicals reports by BAC Reports can be found at http://marketpublishers.com/members/trade_cas/info.html.
About Us:
MarketPublishers.com is a multilingual hypermarket offering a rich collection of comprehensive studies on various markets, sectors, industries, companies, etc. We perform professional services aimed to equip our clients with high-quality research products and support critical decision-making.