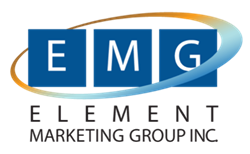 Opening an office in Southern California will allow medical marketing agency Element Marketing Group to expand our presence for West Coast pharmaceutical and medical device firms.
Newtown, CT (PRWEB) September 19, 2013
Element Marketing Group Inc. (EMG), a leader in reimbursement marketing and commercialization strategies for pharmaceutical, biotech and medical device companies, recently announced the opening of their West Coast office in Irvine, California. EMG will strengthen and expand their client base in that region, adding to a portfolio that includes several pharmaceutical firms in the area.
"California has been our second home since we began the business," said EMG CEO and founder Michael Navin, "Setting up an office here brings us closer to our West Coast clients and creates new opportunities to expand our work with key pharmaceutical and device firms. It also allows us to tap a wider talent pool to continue to create award-winning strategy and marketing solutions for our clients."
EMG will take up residence in the MacArthur Blvd Center, a landmark office building in the heart of Irvine on MacArthur Boulevard. EMG is headquartered in Newtown, CT, and has additional hubs in Atlanta, GA and Philadelphia, PA.
ABOUT ELEMENT MARKETING GROUP
Element Marketing Group Inc. (EMG) is a full service medical marketing agency, focused on commercialization and reimbursement, and serving the Pharmaceutical, Biotech and Medical Device Industries. We provide our clients with strategy, research, data analytics and a full suite of creative and digital resources customized to help them navigate the complexities of reimbursement marketing. EMG is headquartered in Newtown, CT and more information is available at http://www.emgcom.com or by calling +1.203.445.0134.