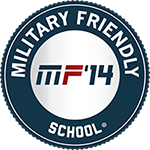 San Diego, CA (PRWEB) September 13, 2013
NewSchool of Architecture and Design (NSAD) has been named to the Military Friendly Schools® list by Victory Media, the premier media entity for military personnel transitioning into civilian life. The list honors the top 20 percent of colleges, universities and trade schools in the country that are doing the most to embrace America's military service members, veterans, and spouses as students and ensure their success on campus.
"Inclusion on the 2014 list of Military Friendly Schools® shows NewSchool's commitment to providing a supportive environment for military students," said Sean Collins, Vice President at Victory Media and a nine-year Navy veteran. "The need for education is growing and our mission is to provide the military community with transparent, world-class resources to assist in their search for schools."
NSAD is among the educational institutions on this year's list that exhibit leading practices in the recruitment and retention of students with military experience through world-class programs and policies for student support on campus, academic accreditation, credit policies, flexibility and other services to those who served, according to Victory Media.
Now in its fifth year, the 2014 list of Military Friendly Schools ® was compiled through extensive research and a data-driven survey of more than 10,000 schools nationwide approved for VA tuition funding. The survey results that comprise the 2014 list were independently tested by Ernst & Young LLP based upon the weightings and methodology established by Victory Media. The Military Friendly Schools® media and website, found at http://www.militaryfriendlyschools.com, feature the list, interactive tools and search functionality to help military students find the best school to suit their unique needs and preferences. Complete survey methodology is available at militaryfriendlyschools.com/Article/methodology-press-kit.
About Victory Media Inc.
Victory Media is a service-disabled, veteran-owned small business that has been serving the military community since 2001. Our data-driven Military Friendly® lists are published in G.I. Jobs, Military Spouse, Vetrepreneur media channels, republished in periodicals like USA Today, Wall Street Journal, Fortune, Bloomberg BW and are frequently cited on national TV by NBC, ABC, CBS, CNN, CNBC, Fox News and others.
About NewSchool of Architecture and Design
NewSchool of Architecture and Design (NSAD), founded in 1980, is located in San Diego, California. For the past two years, DesignIntelligence has ranked NSAD among the top 10 undergraduate architecture schools in the western United States in its publication "America's Best Architecture & Design Schools." NSAD is accredited by the Accrediting Council for Independent Colleges and Schools (ACICS), a national accrediting agency recognized by the U.S. Department of Education and the Council for Higher Education Accreditation. NSAD's Bachelor of Architecture, Master of Architecture and Executive Master of Architecture programs are accredited by the National Architectural Accrediting Board (NAAB). NSAD also offers a pre-professional Bachelor of Arts in Architecture, along with a Bachelor of Science in Digital Media Arts, a Bachelor of Science in Construction Management, a Master of Construction Management and a Master of Science in Architecture. The school's expanding global design education offerings include a new Bachelor of Interior Design program available in 2013–2014. For more information, visit http://www.NewSchoolArch.edu.