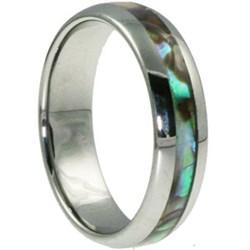 (PRWEB) September 13, 2013
http://www.ForeverMetals.com, a tungsten wedding band retailer and manufacturer, has added a new abalone shell inlay to the growing collection of shell tungsten rings. The new 6mm Regal has been added as a thinner, more feminine width to allow women to purchase the ring and feel comfortable while wearing it. The Regal Abalone Ring already is available in both an 8mm and 11mm with so the company believes this will make a great addition to the site. Many customers have already expressed interest in the new width mentioning that the Regal would make a great, unique wedding band to wear on their special day. The Regal retails for $239 and is available in sizes 5-15 including half sizes.
Forever Metals prides the company on selling the most unique collection of tungsten carbide rings on the internet. Although the company does carry a large variety of classic, more traditional rings they tend to consistently sell out on the nontraditional styles that are more fashion forward. The unique collections include colored tungsten rings including colored inlays, redwood rings, wide width rings over 11mm wide, Claddagh rings and many more. The company believes once a customer comes to look they will definitely be buying as there are over 150 styles on the site.
Forever Metals also offers the most competitive policies to stay ahead of the competition. The company offers non restocking fee returns, a long exchange period and a lifetime warranty that comes to no cost to the customers purchasing from them. http://www.ForeverMetals.com wants to not only gain customers but gain relationships for life.
Purchase rings with confidence when choosing tungsten carbide to wear as wedding bands. The metal reaches a 9 on the Moh's Hardness scale which places it right below a diamond. The metal is also virtually scratch resistant with a beautiful, lustrous finish that is gaining popularity with couples. The price point of tungsten is also dramatically lower than traditional precious metals which is helpful to those staying within a budget.
About Forever Metals, LLC:
http://www.ForeverMetals.com has been in business since early 2005, originally starting out with a few simple styles. After years of hard work and dedication the company has earned their place as one of the largest tungsten ring retailers on the Internet.