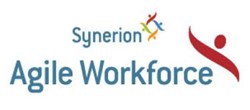 (PRWEB) September 13, 2013
Synerion North America Inc., provider of comprehensive Workforce Management (WFM) software solutions is excited to announce the availability of their newest product offering, Synerion Agile Workforce - a robust and comprehensive workforce management suite designed with the simplicity and flexibility a small/medium business requires.
This new offering features multiple technology methods including cloud/hosted and on premises, financial options, implementation options, and data collection devices.
A major benefit of Synerion's new product offering is that it will manage time costing, time and attendance, absence management and staff scheduling for businesses with 10 to 500 employees. Agile is designed to manage these challenging workforce management issues small to medium size organizations are faced with - reducing costs and providing a fast return on investment.
Synerion's Agile Workforce goes hand in hand with Synerion's newly designed website that was launched earlier this month. The new site provides the opportunity to differentiate between their two product lines - Enterprise Workforce and Agile Workforce.
For more information on Synerion, their products and services including Synerion Agile Workforce visit http://www.synerion.ca.
Synerion North America Inc, has evolved from the synergy of TimeTECH and ITR. Synerion's Workforce Management (WFM) Suite offers organizations a set of integrated tools for the measurable management of workforce performance, utilizing cutting edge technology and industry best practice.
For more information, contact:
Paolo Gilfillan
Director of Sales & Marketing, North America
905-677-7009 x 451
pgilfillan(at)synerion(dot)com