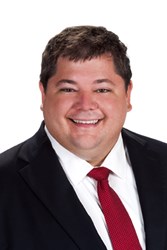 I am excited about the opportunity to build on my expertise of criminal law and work with my father to resolve personal injury, criminal and business dispute cases
Stuart, FL (PRWEB) September 13, 2013
Florida attorney Philip E. DeBerard, IV is following in his father's footsteps and is the most recent addition to the law firm of Philip DeBerard, Injury Attorney. Philip E. DeBerard, IV previously worked as Assistant Public Defender in Martin County and will join his father and firm founder Philip E. DeBerard, III in continued criminal, business, and personal injury practice.
Philip DeBerard, III is a well known trial lawyer in Stuart, Fla. with more than three decades of experience in the legal field. He is among the first attorneys in Florida to be board certified as a civil trial lawyer, and has been recognized by the American Trial Lawyers Association as one of the top 100 trial lawyers in the state.
When asked how he feels about having his son join the firm DeBerard III says "I'm ecstatic that Philip has decided to join the family business. His work as a public defender is a perfect fit for the kind of work we do at the firm. He defended the rights of those charged with crimes and he'll now be defending the rights of injured people against big insurance companies and corporations."
DeBerard IV was born and raised in Stuart, Florida. He graduated with a Bachelor's Degree in Business Administration from the University of Florida and then earned his Master's of Business Administration from Stetson University. Later he earned his Juris Doctorate from the Stetson University College of Law.
"I am excited about the opportunity to build on my expertise of criminal law and work with my father to resolve personal injury, criminal and business dispute cases," says DeBerard IV. "I am thrilled to join my father and to learn from him... it's something I've been thinking about doing for a while now."
DeBerard IV is also a licensed independent insurance adjuster, accredited for veteran's affairs representation and admitted to practice law in all Florida state courts. He is also a member of the Martin County Bar Association, the Florida Justice Association and a board member of the Young Professionals of Martin County.
The law firm of Philip DeBerard, Injury Attorney, headed by attorney Philip DeBerard, III, is one of the oldest and most reputable personal injury law firms in the state of Florida. The firm has been helping accident, injury and malpractice victims in Stuart, Port St. Lucie, Fort Pierce, Okeechobee, West Palm Beach and Vero Beach and across the Treasure Coast since 1975.
The firm's head office is located at 215 Southwest Federal Hwy., Ste. 300, Stuart, FL 34994 (local phone 772-286-1000). The firm's West Palm Beach office is located at 777 South Flagler Drive, Suite 800 West Palm Beach, FL 33401 (local phone 561-748-8887)
For more information, call toll-free 1-800-299-8878 or visit http://www.flainjurylawyer.com