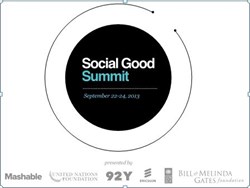 Images have the power to transcend language barriers, so digital photography has become an increasingly powerful tool in communicating across the globe.
New York, NY (PRWEB) September 13, 2013
In a new initiative, the partners of the Social Good Summit are joining Facebook and Instagram to launch #Instacorps – a group of five digital photographers who will capture and share behind-the-scenes images on Instagram from the 2013 Social Good Summit and the United Nations General Assembly week in New York City.
From September 22-24, images from #Instacorps photographers, combined with those of Instagram users from around the world using the #Instacorps and #2030NOW hashtags, will raise awareness about the global issues that world leaders are discussing in New York City that affect us all. Leveraging Instagram's strong social architecture and compelling visual environment, plus its global community of more than 130 million monthly active users, #Instacorps will bring compelling imagery to new audiences, expanding the dialogue on how we can work together for a brighter future and better world.
The inaugural class of #Instacorps photographers will include:

"Images have the power to transcend language barriers, so digital photography has become an increasingly powerful tool in communicating across the globe," said Libby Leffler, Strategic Partner Manager for Facebook. "Through #Instacorps, we will provide a behind-the-scenes look at the UN General Assembly and Social Good Summit for a global audience."
The annual Social Good Summit, held in New York as the UN General Assembly convenes, unites people from around the world around one common theme: how social media, innovation, and technology can help solve our world's greatest challenges. This year's theme, #2030NOW, will focus on efforts that people everywhere can be making NOW to combat poverty and improve livelihoods around the world by 2030. This year's Summit promotes long-term thinking and action in a world that is often challenged by short-term attention spans.
Watch the Social Good Summit preview Livestream at:
http://www.facebook.com/unitednationsfoundation/app_142371818162
For more information on the 2013 Social Good Summit, visit http://www.socialgoodsummit.com.
####
About the Social Good Summit Partners
The 2013 Social Good Summit is proudly presented by Mashable, 92nd Street Y, the United Nations Foundation, the United Nations Development Programme, the Bill & Melinda Gates Foundation and Ericsson.
Mashable
Mashable is a leading source for news, information and resources for the Connected Generation. Mashable reports on the importance of digital innovation and how it empowers and inspires people around the world. Mashable's 25 million unique visitors and 11 million social media followers have become one of the most engaged online news communities. Founded in 2005, Mashable is headquartered in New York City with an office in San Francisco.
92nd Street Y
92Y is a world-class nonprofit community and cultural center that connects people at every stage of life to the worlds of education, the arts, health and wellness, and Jewish life. Through the breadth and depth of 92Y's extraordinary programs, 92Y enriches lives, creates community and elevates humanity. More than 300,000 people visit 92Y in New York City annually and many more connect through digital and social media, live webcasts of events, and an extensive archive of stage programs and original content produced for the web, all available on 92YOnDemand.org. A proudly Jewish organization since its founding in 1874, 92Y embraces its heritage and enthusiastically welcomes people of all backgrounds and perspectives. For more information, visit http://www.92Y.org.
United Nations Foundation
The United Nations Foundation builds public-private partnerships to address the world's most pressing problems, and broadens support for the United Nations through advocacy and public outreach. Through innovative campaigns and initiatives, the Foundation connects people, ideas, and resources to help the UN solve global problems. The Foundation was created in 1998 as a U.S. public charity by entrepreneur and philanthropist Ted Turner and now is supported by global corporations, foundations, governments, and individuals.
United Nations Development Programme
UNDP partners with people at all levels of society to help build nations that can withstand crisis, and drive and sustain the kind of growth that improves the quality of life for everyone. On the ground in 177 countries and territories, we offer global perspective and local insight to help empower lives and build resilient nations.
Ericsson
Ericsson is a world-leading provider of communications technology and services. We are enabling the Networked Society with efficient real-time solutions that allow us all to study, work and live our lives more freely, in sustainable societies around the world. Our offering comprises services, software and infrastructure within Information and Communications Technology for telecom operators and other industries. Today, 40 percent of the world's mobile traffic goes through Ericsson networks and we support customers' networks servicing more than 2.5 billion subscriptions. We are more than 110,000 people working with customers in more than 180 countries. Founded in 1876, Ericsson is headquartered in Stockholm, Sweden. In 2012, the company's net sales were SEK 227.8 billion (USD 33.8 billion).
Bill & Melinda Gates Foundation
Guided by the belief that every life has equal value, the Bill & Melinda Gates Foundation works to help all people lead healthy, productive lives. In developing countries, it focuses on improving people's health and giving them the chance to lift themselves out of hunger and extreme poverty. In the United States, it seeks to ensure that all people—especially those with the fewest resources—have access to the opportunities they need to succeed in school and life. Based in Seattle, Washington, the foundation is led by CEO Jeff Raikes and Co-chair William H. Gates Sr., under the direction of Bill and Melinda Gates and Warren Buffett.