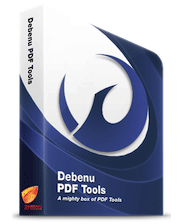 I love being able to access commands through the context menu. With PDF Tools I right click and do all sorts of tricky operations on PDF files. - Max Coppoletta, Quarr-IT - Design and Software Training
Melbourne, Victoria (PRWEB) September 24, 2013
Debenu, released version 3 of the widely popular Debenu PDF Tools and Debenu PDF Tools Pro. The new version can be downloaded absolutely free. The update makes batch processing for workflow automation and an advanced reader available to all users. This catapults the software into the top 5 must have free PDF tools at any user level.
Previous versions received industry wide acclaim from both reviewers and users. The praise focused around the ability to allow a new type of PDF freedom, achieved by making the software faster to use and easier to work with PDF. The product gained popularity quickly because of the short learning curve and time taken to open and use the application.
The new and improved Debenu PDF Tools 3.0 is 100% free and is available for immediate download.
New Features include:

Advanced PDF viewer and editor for visually modifying your documents.
Batch processing engine for manipulating one or a thousand PDF files at once.
Ability to create Actions, which consist of one or more Tools (e.g. Split PDF, PDF to Text, Edit Document Metadata, etc.)
Watched folders for automating workflows.
Apply Actions to files in Windows Explorer, in a batch process or in a Watched Folder.
Enhancements include:
New user interface adding a new look and feel while retaining the original usability.
Intuitive dialogs, built-in help files and touch screen optimized.
Speedy PDF Viewer with continuous page viewing, bookmark navigation and text selection.
Applying Tools and Actions while viewing PDF files.
Stability and performance enhancements across the program, including text extraction, page extraction, rendering and more.
Dropbox SkyDrive and other file syncing services can be given a dose of processing power by creating Watched Folders in PDF Tools in the drives.
Business users of PDF in large companies and small businesses have found Debenu PDF Tools and Tools Pro to be exceptionally useful. Reviews and feedback consistently focus on how many solutions PDF Tools can be used for, and how easy it is to use.
Feedback and reviews from current Debenu PDF Tools and Tools Pro users.
"I've been using PDF Tools for about 6 months now, and I love being able to access commands through the context menu. With PDF Tools I right click and do all sorts of tricky operations on PDF files."
Max Coppoletta, Quarr-IT - Design and Software Training
"PDF Tools has gone above and beyond my expectations. I have been able to accomplish everything I have needed to do to this point in time. There are so many applicable and appropriate options to choose from."
Lois V Pugh, Self-Employed - Administration
About Debenu
Debenu is one of the world's most innovative PDF and document management software vendors. Producing revolutionary software and custom solutions for Adobe Acrobat, PDF and other file formats since 2007. The software Debenu develop spans a broad range of Acrobat® and PDF uses, including forms, conversion, splitting, merging, publishing, stamping, workflow automation, archiving, bookmarking, linking and navigating documents.