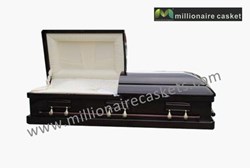 (PRWEB) September 13, 2013
A casket is a person's final resting place, and it is very important to choose the perfect one. Now, a casket can be ordered online in the comfort of your own home, and this service was just announced by MillionaireCasket, a leading China casket manufacturer.
The caskets from MillionaireCasket can be chosen by viewing either by price or by type. All of them can be ordered online. This company's caskets go through a strict quality control process that keeps them at a very high level of quality. According to an engineer of the company, their hot-sale caskets are normally made in 16, 18, 19 and 20 gauge steel or bronze.
"Our products are manufactured with the highest-quality craftsmanship and materials; everyone has a special locking system. Besides caskets, we provide one-stop funeral products to our customers; the related products include urns, embalming tables, church trucks, stretchers and more," says the CEO.
At MillionaireCasket, wooden caskets can be designed to recall the comforting look of luxurious hardwood furniture, and the metal ones can be painted to match just about anyone's personality. Moreover, custom designs are also available at MillionaireCasket.
About MillionaireCasket.com
MillionaireCasket.com is a leading China casket manufacturer (more details at http://www.millionairecasket.com), and focuses on the business of casket wholesale. This company offers an exquisitely crafted line of all kinds of metal caskets, solid wood caskets, veneer caskets, cremation caskets, rental caskets, orthodox caskets, infant or over-sized caskets and European style coffins.
More details can be found at http://www.millionairecasket.com/.