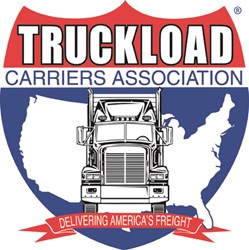 This gala has a noble cause, one that veterans are committed to.
Alexandria, VA (PRWEB) September 13, 2013
Last night, September 12, 2013, at the Grand Hyatt Washington in Washington, D.C., the Truckload Carriers Association (TCA) hosted a benefit Gala that raised funds and awareness for Wreaths Across America (WAA). The monies collected included a large, surprise donation from the Walmart Foundation of Bentonville, Arkansas — $150,000 — to be given to the nonprofit organization that remembers, honors, and teaches about the service and sacrifices of our veterans, active military, and their families. WAA will use the money raised by the Gala to further its mission and provide additional wreaths for veterans' graves across the nation this December.
Patrick Simmons, senior director of transportation for Walmart's Private Fleet, surprised the more than 200 attendees by presenting the $150,000 check to Karen and Morrill Worcester, the founders of WAA. His company has been steadily raising its support of WAA since 2008 and is now the organization's largest corporate donor.
"Because of the size and scope of our business, and the credibility associated with the Walmart name, it is our hope that other companies will follow our lead and support causes like Wreaths Across America," he said to the delighted group.
The Gala featured a reception hosted by Randall-Reilly of Tuscaloosa, Alabama; a dinner hosted by TravelCenters of America/ Petro Stopping Centers of Westlake, Ohio; speakers; entertainment hosted by Pilot Flying J of Knoxville, Tennessee; and a silent auction. Among the guests were Congressional representatives, military personnel, numerous veterans, and individuals from trucking companies and related businesses and organizations.
Heather French Henry, who was crowned as Miss America 2000, served as the master of ceremonies. As a disabled veteran's daughter, Henry spent her reign as Miss America visiting VA hospitals, homeless facilities, and Congress to help spread awareness about veterans' issues. She has been a strong advocate for the cause ever since.
"We're here tonight to support Wreaths Across America," she said, "because everyone in this room recognizes the supreme sacrifice that our fallen heroes have made in the name of freedom. This organization is ensuring that future generations will respect and remember what happened in the past. The group is also doing something of great importance to the families of the deceased. In this sense, we honor those who died by serving those who live."
During their remarks, the Worcesters conveyed their appreciation to TCA for putting together the Gala and continuing to tackle the logistical challenge of delivering more than 500,000 wreaths to 900 locations in 2013. They stated that the organization's fund-raising efforts have done much to further the cause of educating the public and recognizing the sacrifices made by the nation's veterans.
"Monies raised tonight will help increase our wreath numbers at Arlington National Cemetery by 30 percent over last year," Karen said. "One of our goals is to fully cover all the graves there in 2014 for the 150th anniversary of the cemetery."
Other speakers included Barbara Bernard of Columbia, Pennsylvania, who is president of the American Gold Star Mothers, Inc. She spoke on behalf of parents like herself whose children lost their lives while serving our nation. The group also heard from Bryan Matthews, associate director for the Department of Veterans Affairs Medical Center in Washington, D.C., the facility from which many of the veterans in attendance receive their health care.
"This gala has a noble cause, one that veterans are committed to," he said. "We're walking alongside you tonight and always."
Funds raised during the Gala came from the silent auction and donations. High bidders came away with items such as a diamond and white gold ring symbolizing WAA's ideals. Zack Little of Bay & Bay Transportation of Rosemount, Minnesota, added to excitement by presenting WAA with a donation check from an educational forum and fishing challenge his company held in July.
Country singer Lindsay Lawler, the spokesperson for TCA's Highway Angel program, and multi-platinum country music quartet Lonestar both performed, bringing a fun conclusion to a very special evening.
TCA encourages the trucking industry to give generously to WAA through http://www.TruckloadOfRespect.com.
Photos from event: click here.
TCA is the only national trade association whose collective sole focus is the truckload segment of the motor carrier industry. The association represents dry van, refrigerated, flatbed, and intermodal container carriers operating in the 48 contiguous states, as well as Alaska, Mexico, and Canada. Representing operators of more than 200,000 trucks, which collectively produce annual revenue of more than $20 billion, TCA is an organization tailored to specific truckload carrier needs.
Wreaths Across America is a 501(c)(3) nonprofit organization founded to continue and expand the annual wreath-laying ceremony at Arlington National Cemetery begun by Maine businessman, Morrill Worcester, in 1992. The organization's mission, Remember, Honor, Teach, is carried out in part each year by coordinating wreath-laying ceremonies on the second Saturday of December at Arlington, as well as hundreds of veterans cemeteries and other locations in all 50 states and beyond. For more information, to donate or to sign up to volunteer, please visit http://www.WreathsAcrossAmerica.org.