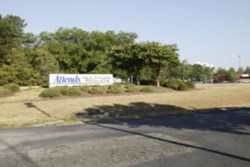 Domtar can be an example to others of the strong talent pool and attractive quality of life that characterizes Greenville, Pitt County, and all of eastern North Carolina.-Governor Pat McCrory
Greenville, NC (PRWEB) September 15, 2013
The Pitt County Development Commission is pleased to announce that Domtar Corporation, a pulp, paper and absorbent hygiene products manufacturer, marketer and distributor will expand its facility in Pitt County. The company plans to create 35 new jobs and invest $100,000 over the next three years at the Attends facility in Greenville, N.C. The company has already invested approximately $20 million in eastern NC over the past two years.
"Domtar is an outstanding corporation, and Attends has been an excellent corporate citizen locally," said Wanda Yuhas, executive director of the Pitt County Development Commission. "Attends was Pitt County's 2009-10 Industry of the Year, and is one of our top ten taxpayers. We are honored by their new vote of confidence and very grateful for their presence."
Domtar and its wholly owned subsidiary, Attends Healthcare Products, have chosen to locate their North American operations center in Pitt County. Attends has operated in Greenville since 1999 and as Attends' headquarters since 2007. Domtar acquired Attends in 2011 to position the company for an increased share of the growing consumer products market.
"As a wood fiber innovation company with a global sales footprint in pulp, paper and absorbent hygiene products, North Carolina is a big part of our growth story," said Domtar President and CEO, John D. Williams. "With a fluff pulp mill and bio-chemical plant in Plymouth, a personal care manufacturing facility in Greenville, as well as our global personal care headquarters in Raleigh, this state is a symbol of Domtar's past and future working together for long-term prosperity."
Attends currently employs approximately 300 at the Greenville facility, and the new operations center will create 35 high-paying jobs in finance and accounting. Salaries will vary by job function, but the average annual wage for the new jobs will be $52,000 plus benefits. The Pitt County average annual wage is $33,769.
"Domtar has found a perfect fit for its Personal Care division's North American Operations Center right here in Greenville," said Governor Pat McCrory. "Their expanded presence will strengthen eastern North Carolina's reputation for having a talented workforce. Domtar can be an example to others of the strong talent pool and attractive quality of life that characterizes Greenville, Pitt County, and all of eastern North Carolina."
The project was made possible in part by a performance-based grant from the One North Carolina Fund of up to $70,000. The grant requires a local match that will be provided by the Pitt County Development Commission and the Pitt County Committee of 100.
Other partners that assisted with this project include the N.C. Department of Commerce, N.C. Community College System, Pitt Community College and Pitt County.
---
About Attends
Attends Healthcare Products has a singular focus on incontinence products and they are committed to leveraging that expertise to deliver product innovations that improve the quality of life for millions of people. For more information on Attends, visit their website at http://www.attends.com.
About Domtar
Domtar operates Pulp and Paper, Distribution and Personal Care business segments. The Personal Care segment was formed on September 1, 2011, upon completion of the acquisition of Attends. Domtar is one of the leading suppliers of adult incontinence products sold into North America and Northern Europe. For more information on Domtar, visit their website at http://www.domtar.com.