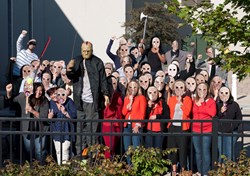 New Berlin, Wis. (PRWEB) September 13, 2013
As one of the largest online retailer of Halloween costumes and décor, BuyCostumes.com embraces Friday the 13th as a perfect way to get people in the mood and excited for Halloween.
To showcase people's passion for Halloween, BuyCostumes.com has launched a How Do YOU Halloween contest. To enter, visitors create a Pinterest board of themselves with their desired costume or look for this year and pin it to the BuyCostumes.com How Do You Halloween? board. One winner will be chosen at random each week to win a $50 gift code. To enter, and for more details, visit http://shout.lt/cWIN.
In addition, the site is offering special deals to visitors throughout the weekend, including 13 "Frightful Deals" featured on the site on the 13th. These one-day-only, appropriately-named takes on "door busters" will see selected products at their lowest prices ever, upwards of 65% off.
###
BuyCostumes.com is one of the largest internet retailer of costumes and costume event décor, and the place to shop for year-round costume party needs, specializing first and foremost in Halloween. BuyCostumes.com is one of the brands of BuySeasons, Inc. Founded in 1999, BuySeasons, Inc. is the leading online retailer of costumes, accessories, party décor and supplies for year-round celebrations and entertaining. BuySeasons, Inc. owns and operates buycostumes.com as well as BirthdayExpress.com, CostumeExpress.com, 1stWishes.com and CelebrateExpress.com. BuySeasons, Inc. is a wholly owned subsidiary of Liberty Interactive Corporation.