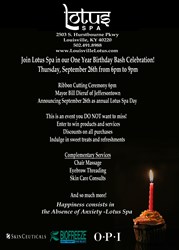 Louisville, KY (PRWEB) September 14, 2013
Beauty enthusiasts and spa-goers are invited to celebrate Kentucky beauty spot, Lotus Spa, and their one year anniversary on September 26th from 6-9 p.m..
Mayor Bill Dieruf of Jeffersontown will make a special appearance for the ribbon cutting ceremony at 6 p.m. The mayor will also announce September 26th as annual Lotus Spa Day.
"We are pleased to have Mayor Bill Dieruf attend the evening," says Jen Davidson, owner of Lotus Spa. "His presence will only immense the feeling of accomplishment our staff has gained over this year and the desire we have to give back to our community that has been so graciously welcoming."
The Louisville spa will be transformed in to a cocktail reception featuring sweet treats and refreshments. Guests will enjoy complimentary chair massages, eyebrow threading and skin care consultations with Lotus Spa aestheticians and product experts. Lotus Spa will also be giving away a variety of luxury products and services as well as special discounts on purchases made during the evening.
The event will take place at Lotus Spa, 2503 S Hurstbourne Pkwy, Louisville, KY 40220. For more information about the event, please visit http://louisvillelotus.com/events.
About Lotus Spa:
Lotus Spa is an emerging skin care and beauty spot located in the heart of Louisville, KY. From revitalizing massages to skin-perfecting facials, Lotus Spa offers an array of treatments provided by highly educated professionals who want to make sure guests receive exceptional customer service. Lotus Spa's philosophy derives from the lotus flower, which grows from the depths of muddy water and blooms unsoiled and stunning; symbolizing purity, rebirth and enlightenment. In this urban environment, Lotus Spa strives to be your oasis.