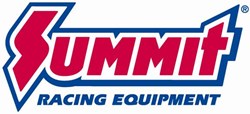 Tallmadge, OH (PRWEB) September 16, 2013
Stopping power from one of the leading makers of performance and racing brake rotors. Disc Brakes Australia (DBA) is an OE supplier to GM/Holden and Ford, so it stands to reason that DBA's brake rotors fit like OE and will greatly enhance a vehicle's stopping ability. Summit Racing offers three types of DBA rotors.
CLUBSPEC 4000 T3 ROTORS
DBA's most advanced rotors are perfect for serious street and weekend track use. The rotors are made from an exclusive high-carbon alloy iron and TSP process that increases thermal capacity. That means the rotors can withstand extreme heat without warping or cracking.
DBA's patented Kangaroo Paw ventilation increases available surface area, which provideA awesome heat dissipation and dramatically reduces fade. The rotors have 48 curved slots that help dampen vibration for quiet, responsive braking and better pedal feel. DBA even added heat paint marks around the outside edge of the rotor that change color at specific temperatures, allowing you to monitor peak braking temperatures.
Applications include 2010-12 Camaro, 1997-2009 Corvette, and 2006-08 Silverado/Sierra and Suburban/Tahoe; 2005-12 Mustang; 2007-09 Cadillac Escalade; and 2009 Pontiac G8.
HD SERIES 4000X ROTORS
Ideal for street performance and daily driver use, these rotors have many of the ClubSpec 4000's features, including the high-carbon alloy iron material, patented Kangaroo Paw ventilation, and heat paint marks that change color to help monitor peak braking temperatures. The 4000X rotors have a cross-drilled and slotted non-directional design that eliminates the need for specific left and right discs and provides a consistent, strong brake feel.
Applications include 2010-12 Camaro and 1997-2009 Corvette; 2005-12 Mustang; 2005 Pontiac GTO and 2009 G8; 2003-08 Nissan 350Z; 2002-12 Subaru WRX and WRX STI; and 2003-08 Mitsubishi Evolution.
STREET SERIES T2 ROTORS FOR 2005-13 MUSTANG
These rotors are excellent upgrades for your daily driver Mustang. They feature DBA's Kangaroo Paw ventilation design, plus bi-symmetrical T2 curved slots that help dampen vibrations and noise and promote even pad wear and less pad glazing. That means more consistent brake feel.
PRODUCT LINK
http://www.summitracing.com/search/brand/disc-brakes-australia-usa-llc?GroupBy=ProductName
Summit Racing Equipment
http://www.SummitRacing.com
1-800-230-3030