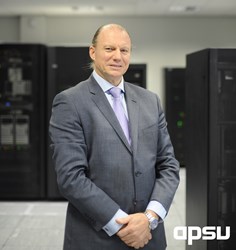 APSU has enjoyed significant growth over the last three years primarily due to the development and deployment of its unique, cloud based, managed IT services for companies across all industry sectors.
(PRWEB UK) 17 September 2013
APSU, the leading IT services provider, has secured a top 20 spot in the Sunday Times Tech Track 100 following record sales growth.
Providing cloud computing and managed IT services for the likes of Aldi, Primark and IBM, APSU was ranked the top company in the south-west of England. Under Founder and Chief Executive Steve Morris, the firm grew sales to £25.6m in 2012. It is now planning to win new business in America and in continental Europe.
Published on 15 September, the 13th annual Sunday Times Hiscox Tech Track 100 league table ranks Britain's private technology, media and telecoms (TMT) companies with the fastest-growing sales over three years.
Companies on the table include well-known brands such as property website Zoopla Property Group (No 6), online money lender Wonga (No 16) and content recognition services developer Shazam (No 88). Cirencester-based APSU joins the list for the first time at number 20, after seeing 129% annual sales growth over three years.
Steve Morris, CEO of APSU said: "APSU has enjoyed significant growth over the last three years primarily due to the development and deployment of its unique, cloud based, managed IT services for companies across all industry sectors. These range from fast food restaurants and retail giants, to the largest technology and IT-consulting companies in the world.
"We are confident that this exceptional growth will continue as we develop and expand our rich, cloud-based offerings for the UK, Europe and worldwide markets. Strategic partnerships with IBM and Independent Software Vendors [ISVs] have helped accelerate the innovation, growth and successful implementation APSU's offerings.
"APSU has an exciting and profitable future ahead and I very much look forward to continuing to work with our customers and partners to ensure that we exceed market expectations for both innovation and quality of services."
Steve Langan, Managing Director of Hiscox UK and Ireland, the title sponsor of the league table, commented: "The passion, determination and resilience that this year's Tech Track 100 businesses have demonstrated is no mean feat given the economic context and continued challenging trading conditions. We are pleased to be able to celebrate some of the brave and bold tech companies that exist up and down the country, and hope that their success will now inspire others too."
The Tech Track 100 league table and awards programme is sponsored by Hiscox and Barclays, and compiled by Fast Track, the Oxford-based research and networking events company.
Average sales growth for the 100 companies was 92% a year, to a total of £2.6bn. The companies collectively employ almost 12,200 staff, having added more than 8,600 jobs over the same three-year period, some as a result of acquisitions.
Contact: Gerry Burke
Telephone: 02476 560066
Email: gerry.burke@apsu.com
Company: APSU
Address: APSU House, The Mallards, Broadway Lane, South Cerney, Circencester GL7 5TQ
-Ends-
About APSU
APSU is a leader in delivering IBM solutions to the UK market. Its service portfolio covers technical consultancy, procurement, managed services, in-store and on-line retail solutions, cloud hosting and physical co-location.
A technology pioneer, delivering cloud-based services for the IBM mid-range market years many before any other company. Working with clients, Independent Software Vendors and leading technology organisations, APSU is continually developing and expanding its feature rich cloud and managed IT services for IBM Power and Wintel platforms. With a partner network connecting 102 cities in 30 countries and including 21 city networks (MANs) in Europe's major business centres, 10 data centres, 31 co-location centres and ten sub-sea landing stations, APSU is now a truly international support company.
APSU is headquartered in Cirencester, Gloucestershire, and has data centres in Cirencester, Coventry, London, Newport and Warwick.
About Fast Track
Fast Track has published league tables of top-performing private companies with The Sunday Times for the past 17 years. Its invitation-only dinners provide a valuable opportunity for entrepreneurs to network and meet its sponsors. The company was founded and is run by Dr Hamish Stevenson, who also holds an associate fellowship at Green Templeton College, Oxford University.
About Hiscox
Hiscox is an international specialist insurance and reinsurance company with offices in 11 countries, 1,400 staff and customers around the world. With over 100 years of underwriting expertise, they work with businesses and individuals to provide cover that is tailored to suit often complex and unusual insurance needs. This includes the needs of businesses of all shapes and sizes; from sole traders and tech start-ups to global enterprises.
About Barclays
The Barclays Technology, Media and Telecoms corporate banking team have sector-focused relationship directors located across the UK. These specialists have the industry expertise and local knowledge to recognise the requirements of this diverse sector, and support the businesses within it.
This dedicated team works with most of the listed UK TMT companies and more than a quarter of all Tech Track 100 businesses operating in the sector.
Links
Sunday Times Hiscox Tech Track 100 2013 League Table
http://www.fasttrack.co.uk/fasttrack/leagues/tech100leaguetable.asp?siteID=3&searchName=&yr=2013&sort=num&area1=99
Sunday Times Supplement
http://www.fasttrack.co.uk/fasttrack/leagues/tech100supplement.html