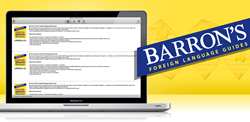 NEW YORK/FREIBURG (PRWEB UK) 17 September 2013
Paragon Software Group, a leading software developer for mobile devices and desktop computers, and Barron's Educational Series, Inc., a publisher of study guides and educational resources since 1941, announce the release of four new Barron's Bilingual Dictionary Apps for Mac OS X, based on Barron's comprehensive approach to language learning. Each dictionary contains more than 200,000 headwords, making Barron's Bilingual Dictionary Apps the perfect on-the-go tool for travelers, students, professionals or hobby language learners of all types.
Titles include:

Barron's Italian-English Bilingual Dictionary
Barron's French-English Bilingual Dictionary
Barron's Spanish-English Bilingual Dictionary
Barron's German-English Bilingual Dictionary
Search functions:

Look up words within seconds.
The easy-to-use full-text search allows the user to find examples of use and sample sentences.
If the user is not sure how to spell a word – the similar words or wild card search function will find what they are looking for.
Look up key words in any form – declined or conjugated (for English, French, Spanish).
Look up words when working with system applications, without having to switch to the dictionary software. The popup translation allows the user to look up unfamiliar words, e.g., when reading e-mails, documents, or websites on your Mac. All the user needs to do is point the mouse at the unfamiliar word.
Create and search personal favorites.
The history function retrieves words the users has already looked up, with just one click.
Learning functions:

Pronunciation: listen to a wide variety of key words, recorded by native speakers (available only for full version).
Lists of irregular verbs (available for German and English)
Customizable user-interface functions:

Fast access to the virtual keyboard.
Automatic detection of translation direction no matter whether users type the word in the source or the target language.
Font size
Compatibility:
OS X 10.7 (Lion) or higher.
Availability:
Barron's dictionaries app is available for free. Full version dictionary prices start at 18.99 USD / 13.99 EUR at Mac App Store: https://itunes.apple.com/app/id634855450?mt=12
The dictionaries are also available at Google Play LINK
About Barron's
With more than 2,000 titles in print, Barron's Educational Series, Inc. is world renowned as a publisher of study guides and educational resources for students of all ages. Barron's Foreign Language Guides cover a multitude of languages from American Sign Language to Turkish, and provide language learners with a wide range of tools, including books, audio products, and online resources. Whether you're learning a language at home, in the classroom, or looking for help when traveling abroad, Barron's provides the solutions to all your language needs. Founded in 1941, Barron's Educational Series, Inc. is privately owned corporation located in Hauppauge, New York. To learn more about Barron's diverse product line, please visit: http://www.barronseduc.com.