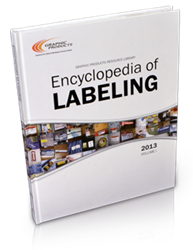 Portland, OR (PRWEB) September 17, 2013
Up until now, no one has taken the time and energy to author and assemble all the key details of labeling information. Graphic Products is reviving the encyclopedia tradition with the newest addition to its growing resource library with the Encyclopedia of Labeling (EOL) which is packed with how-to information, tips, and advice that will help you improve your facility's safety culture and eliminate waste from day to day operations – unlike any encyclopedia ever written before.
This hard cover 280-page chronicle (a $149.95 value), was researched, reviewed, and written by a team of writers, editors, and industry experts. Photos, charts and worksheets complement each chapter -- making technical information easy to understand.
Immerse yourself in the world of safety labeling and start putting the ideas in the EOL to work today. The EOL is available with the purchase of a new printer.
EOL tackles a number of high profile topics:

Arc flash
Pipe Marking
Warehouse safety
Lean manufacturing
Hazardous materials
Floor marking
Confined spaces
Conveyor Safety
Lock Out / Tag Out
Personal Protective Equipment (PPE)
Electrical Safety
OSHA Safety Signs
Glossaries of technical terms
Supervisors, managers, and front-line workers will learn how to:

Other free resources in the Graphic Products library include:
5S Systems Guide
Introduction to Kanban
Introduction to Kaizen
Free Guide to WHMIS Symbols
Free International GHS Labeling Best Practices Guide
Arc Flash Solutions Guide
Confined Spaces Best Practices Guide
Safety Lockout/Tagout Best Practices Guide
Warehouse Safety Guide
Safety Inspection Notebook
Wire Marking Guide
Big Signs and Labels Guide
Required PPE Guide
Labeling for Today's Schools
DuraLabel thermal transfer printers include free proprietary software for creating pipe markers, arc flash labels and wayfinding signs. Users can also opt to create their own custom signs and labels using MicroSoft Word or Open Office.
DuraLabel printers and supplies are manufactured and distributed by Graphic Products of Portland, Oregon -- providing visual communications resources since 1970. DuraLabel offers more than 50 application-specific supplies and offers same-day shipping to meet just-in-time delivery requirements. Graphic Products counts Amazon, Boeing, DuPont, Intel and Toyota among its global customer base.
For more information, visit http://www.DuraLabel.com.