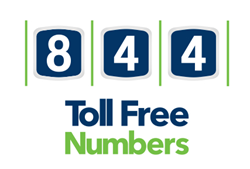 'The 844 Toll Free Number Tool was made to spell out success, literally. With our keyword search customers can find the vanity number of their dreams.' - Christy Green, Vice President of Sales and Marketing. Custom Toll Free
Mill Creek, WA (PRWEB) September 19, 2013
To help streamline the process of pre-ordering 844 toll free numbers between now and the official release date on December 7th, 2013, Custom Toll Free has created a new tool to assist customers with pre-ordering the 844 vanity number of their choice. Businesses and marketing agencies pre-ordering their 844 toll free numbers with Custom Toll Free will increase their chances of acquiring the perfect number in addition to many other service features. Custom Toll Free also offers a wide range of services and amenities that have been proven to help boost communication and conversions.
During the 855 toll free number prefix release, Custom Toll Free successfully captured an overwhelming majority of number reservations and achieved a very high success rate in delivering them. This time around, they expect to meet and even exceed expectations. "The 844 Toll Free Number Tool was made to spell out success, literally. With our keyword search customers can find the vanity number of their dreams," says Christy Green, Vice President of Sales and Marketing at Custom Toll Free. By using this tool, users can search for their preferred keywords and find the number that best represents their business. Although successful reservations are not entirely guaranteed, pre-ordering an 844 toll free number will significantly increase the chances of acquiring the desired number upon the official December 7th release.
Once the 844 toll free number prefix is released, Custom Toll Free will utilize their resources to send requests via SMS for reservations. Upon successful reservation, Custom Toll Free will then contact each user for further routing and management options. Users can even port their 844 toll free number to any carrier of their choice or choose to remain with Custom Toll Free.
Time-tested and proven, toll free numbers give business advertising a huge advantage. And with the Custom Toll Free 844 number tool, businesses can search through available alphanumeric combinations. Time is of the essence in getting the right vanity number spelling for business. For more information on this opportunity, as well as the benefits of toll free numbers, please visit CustomTollFree.com or call 1-800 CUSTOMIZE.