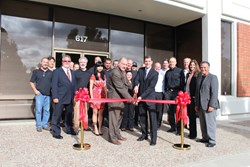 SOLiD belongs to be here among the best in Silicon Valley.
Sunnyvale, CA (PRWEB) September 16, 2013
SOLiD celebrated the official opening of its U.S. headquarters in the heart of Silicon Valley today with a blessing of the building by Pastor Jorge Marsal of nearby New Hope International Church and a ceremonial ribbon-cutting presided over by Sunnyvale Mayor Anthony Spitaleri. Spurred by record company growth, the global communications technology innovator recently moved to its new offices at 617 N. Mary Avenue in Sunnyvale.
"We are proud to call Sunnyvale home and honored to be surrounded by the many technology leaders and innovators that make this place so special," said Seth Buechley, President of SOLiD. "Our team is engaging in the community and fostering long-term partnerships to enhance our best-in-class products and services. We belong here among the best of the best in Silicon Valley, and look forward to contributing to its unparalleled creative and innovative spirit."
SOLiD has become one of the leading RF systems manufacturers in the world by coupling its strengths in Distributed Antenna Systems (DAS) and Optical Network solutions with the best services and operation management. The move to larger offices helps SOLiD maintain record growth as the company expands into new markets and industries by enabling capacity and coverage for cellular and public-safety use at large venues and campuses.
SOLiD's U.S. headquarters can now accommodate the company's growing team of employees from around the world, including colleagues who frequent the facility from the parent company's offices in Seoul. The facility supports SOLiD's state of the art Network Operations Center (NOC) that provides sophisticated monitoring and proactive incident resolution for DAS and Optical Transport deployments.
The building also provides a significantly larger area for system configuration and order fulfillment, increasing warehouse for on-site inventory and logistical space threefold. The headquarters houses SOLiD's live demonstration showcase and the SOLiD University™ training classroom, where the company offers basic radio frequency training and SOLiD product certification courses for value-added resellers and installers. The classroom enables hands-on, instructor-led training designed to deliver theoretical and practical knowledge and experience.
SOLiD is also committed to ensuring in-building public-safety communications through the founding of the Safer Buildings Coalition. SOLiD's technical experience and superior communications products are well represented both regionally and nationally.
About SOLiD
SOLiD (http://www.solid.com) empowers capacity and coverage for cellular, public safety, and Wi-Fi services at large venues and campuses through innovative Distributed Antenna System (DAS) and carrier-grade Optical Network solutions for Small Cell Backhaul and Passive Optical LAN (POL) deployments. The company is grounded by a shared vision of advancing technology to solve wireless industry problems in new ways and supporting our customers and partners with world-class service. SOLiD counts among its global customers major wireless operators; leading hospitals; Olympic, professional, and college sports venues; metropolitan subways; government and Fortune 500 corporate campuses; and other marquee customer sites. Learn more at the SOLiD website, read our blog and follow us on LinkedIn and Twitter. For further information please email info(at)solid.com or call 888-409-9997.