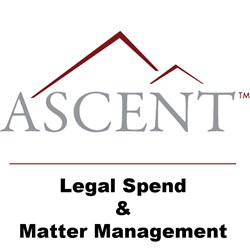 Utilizing hosted legal solutions to manage corporate legal spend through doeASCENT™ allows for greater reporting, forecasting, and analytics in real time.
Wilmington, DE (PRWEB) September 17, 2013
doeLEGAL, a cutting-edge provider of legal spend management and electronic invoicing solutions for the corporate legal marketplace, proudly announces their sponsorship of the Association of Corporate Counsel (ACC) Annual Meeting being held in Los Angeles, California October 27-30,2013. The best-of-the-best corporate legal professionals in our industry attend this noteworthy event each year. This year's ACC Annual Conference brings together these "Top-Gun" minds to learn, share experiences, and engage with service vendors/providers of the best legal technology solutions available today. doeLEGAL will in attendance to discuss the benefits of a fully integrated and collaborative Legal Spend and Matter Management Solution at ACC Booth 703. Stop by to meet these industry leaders and earn a chance to take home a new collaborative device! There will be one each day.
doeLEGAL uses legal collaboration as the backbone of its doeASCENT™ legal spend and matter management package. This team-based platform provides the most innovative and efficient delivery of eBilling and matter information into a shared-workflow environment. This transparent data location allows both Legal Spend and eDiscovery information to be integrated together on one screen with the critical data assembled and configured for each user and their particular role requirements. Legal solutions that focus on elevating performance through process configuration, system integration, and real-time information delivery are today's most valuable tools. Catch a glimpse of the future of legal technology at booth 703.
Experience the benefits of sharing a matter's workload and responsibility, where all legal parties gain a deeper understanding of the entire process. Utilizing hosted legal solutions to manage corporate legal spend through doeASCENT™ allows for greater reporting, forecasting, and analytics in real time. These are critical to senior decision-makers when facing the challenges so often encountered in today's business environment. Knowing where each matter stands at any given moment requires a system that reports in real time, collects data consistently, and processes it into useful information. doeLEGAL consistently delivers on this promise utilizing the most advanced database and reporting technology available. Cost savings are always a top priority with legal departments now facing mandatory legal expense reductions of up to 20%.
The most effective path towards intelligent legal expense reduction is first to know how the budget is spent. Second, one must know where money is spent most effectively. Third, one needs an electronic billing (eBilling) system to capture, track, and report on invoice history. Without this eBilling data to analyze, any evaluation of vendors, services, schedules, and work efficiency is far more difficult. doeASCENT™ is the ongoing result of listening to clients and watching the industry evolve into a technology-mandatory landscape. Stop by ACC Booth 703 this year to see how implementing a system like this can benefit an entire legal team. Don't forget to sign up for the daily Collaborative Device Giveaway.
About doeLEGAL
doeLEGAL is a cutting edge provider and innovator of cloud-based legal enterprise collaboration solutions for the legal industry. Their suite of end-to-end collaborative software and services for corporate legal departments and law firms includes electronic invoice processing, legal spend and matter management, litigation support and electronic discovery. doeLEGAL serves small, medium and large Global Fortune 500 corporate legal departments as well as law firms in more than 35 countries. Established over four decades ago, doeLEGAL has built an impeccable reputation as a trust advisor and takes pride in providing state-of-the-art technology offered at an excellent price point to clients who value and depend on exceptional service. Visit doeLEGAL at http://www.doeLEGAL.com for more information. Call 302-798-7500 today.