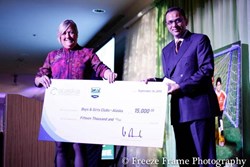 Anchorage, AK (PRWEB) September 16, 2013
As part of the third annual Summer of Heroes program, Alaska Communications donated $15,000 to Boys & Girls Clubs – Alaska on Saturday, Sept. 14. Alaska Communications President and CEO Anand Vadapalli presented the donation check during Boys & Girls Clubs – Alaska's 31st Annual Auction Gala at the Sheraton Hotel Anchorage. This event, which celebrates youth programs across Alaska, is the nonprofit organization's biggest fundraising event of the year.
Summer of Heroes is a partnership program between Alaska Communications and Boys & Girls Clubs – Alaska to support youth development programs throughout the state and honor young Alaskans who are making positive contributions. The two organizations presented $1,500 scholarships to seven young heroes during a recognition ceremony, emceed by local media personality Corey Allen-Young, at the Alaska State Fair on Aug. 25. The heroes ranged from ages 9 to 18 and came from communities across the state, each bringing their inspirational story of how they've made a positive difference in the lives of others.
In addition to awarding more than $10,000 in scholarships, Alaska Communications pledged to donate $25 to Boys & Girls Clubs – Alaska for every smartphone sold during the May 22-July 22 nomination period, up to $15,000. The non-profit has lost millions of dollars in federal funding in the past several years due to the decline of federal grants. These funding challenges reduce the number of Clubhouses the organization can operate and directly relate to the staff and resources it has to make an impact on the kids it serves. Donations like this allow Boys & Girls Clubs – Alaska to continue providing important programs that help youth succeed in school and life.
"Summer of Heroes is an incredibly rewarding program that recognizes the importance of youth development programs and the contributions that young people are making in their communities," said Alana Humphrey, CEO of Boys & Girls Clubs – Alaska. "We're extremely thankful for the support from Alaska Communications. This donation will allow us to continue serving thousands of youth from across the state."
"Alaska Communications is dedicated to supporting programs that help young Alaskans succeed today, and set them up for a successful future," said Heather Cavanaugh, director of corporate communications at Alaska Communications. "With this donation, we hope that Boys & Girls Clubs – Alaska can continue their important work throughout the state and make a positive impact in the lives of our local youth."
For full biographies of each of the seven Summer of Heroes scholarship recipients and more information about Summer of Heroes and Alaska Communications' work in the community, visit http://www.alaskacommunications.com/summerofheroes. Stay up-to-date on Summer of Heroes initiatives and events by connecting with Alaska Communications on Facebook and Twitter.
About Alaska Communications
Alaska Communications is a leading provider of advanced broadband solutions for businesses and consumers in Alaska. We operate a highly reliable, advanced statewide data and voice network with the latest technology and the most diverse undersea fiber optic system connecting Alaska to the contiguous United States. For more information, visit http://www.alaskacommunications.com or http://www.alsk.com.