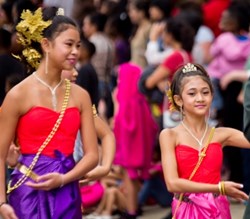 Where else can you experience the Philippines, South Korea, Panama, India, Greece and the Ukraine all in one afternoon? And the performances are all free! - Mary Kinney, Arts Council Marketing Director
fayetteville nc (PRWEB) September 17, 2013
Celebrate the beauty of cultural unity at the Arts Council of Fayetteville/Cumberland County's 35th International Folk Festival on Sept. 27-29, 2013.
Throughout the festival, visitors can learn about other cultures – from Latin and Celtic bands, to Native American and Hispanic foods, to Peruvian and Japanese crafts. "The International Folk Festival is truly a home-grown festival," says Deborah Martin Mintz , Executive Director of the Arts Council. "All of the cultures represented in the festival are native cultures of residents of Cumberland County."
The festival kicks off during 4th Friday on Sept. 27 with cultural performances throughout downtown Fayetteville. The celebration continues on Saturday, Sept. 28, with the Parade of Nations at 10:30 a.m. on Hay Street. The parade will be led by members of the Army Ground Forces Band, who will also perform on the main stage in Festival Park on Saturday and Sunday afternoons.
Festival Park is open from noon to 6 p.m. on Saturday, Sept. 28, and Sunday, Sept. 29, with music and dance, international food, arts and crafts vendors and two interactive kids' areas.
In the "Kindness Corner," a new component of the festival, people of all ages will be invited to participate in a progressive art project, as well as create a craft that will be distributed to members of the Fayetteville/Cumberland County community who would benefit from a kind gesture.
Mary Kinney, Marketing Director for the Arts Council, says that on Sunday, Sept. 29, the International Stage "goes completely global with dancing and music from many cultures represented by our friends and neighbors." Where else can you experience the Philippines, South Korea, Panama, India, Greece and the Ukraine all in one afternoon? And the performances are all free!"
Photos from 2012 International Folk Festival
The International Folk Festival is the first of more than 130 events happening in Fayetteville and Cumberland County in October and November. "With an average of 2 events per day this season, there are plenty of opportunities to experience the freedoms we enjoy thanks, in part to our neighbors at Fort Bragg," says John Meroski, Fayetteville Area Convention & Visitors Bureau President and CEO.
Other key happenings include:
Fri, Sat & Sun in October / Vander Haunted Trail
October 6/ Heritage Festival at Cape Fear Botanical Garden
October 10/ NC Symphony presents Music of John Williams at Fayetteville State University
October 17-19; 24-26/ Historic Hauntings
October 19/ Hope Mills Ole Mill Day at Hope Mills Park
October 19-20 /Civil War Encampment at Averasboro Battlefield
November 7-10/ Holly Day Fair at Crown Center
November 8-10 / Heroes Homecoming / three stars from MASH help the community remember and honor Korean War Veterans with special events throughout the weekend http://www.HeroesHomecoming.com
For a full calendar, visit http://www.VisitFayettevilleNC.com
About the FACVB:
The Fayetteville Area Convention & Visitors Bureau is a private, not-for-profit organization
responsible for positioning Fayetteville/Cumberland County as a destination for conventions,
sporting events and individual travel. For additional information, visit http://www.visitfayettevillenc.com or call 1-800-255-8217. Fayetteville/Cumberland County is America's first military sanctuary. Through the Army's Army and other volunteer groups, our citizens and businesses are dedicated to "watching over those who watch over us ©."