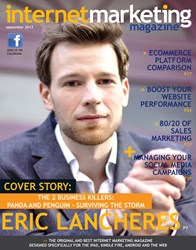 It's not just one thing, but it's a combination of things that will make you rank above your competition.
Montreal, Quebec (PRWEB) September 17, 2013
Eric Lancheres an SEO expert known for his online traffic recovery methods is featured in this month's issue of Internet Marketing Magazine. Since Panda and Penguin were introduced, Eric has developed a program providing webmasters and web owners the ability to recover from Google's Panda and Penguin updates. As the Internet gains more ground Google finds more ways to ensure the web has user-friendly navigation across the board.
Eric's step-by-step videos provide the public at large the understanding and knowledge for the constant emerging updates that can hinder ones online presence.
The interview includes resourceful information, such as how to properly add links to your website and the importance of staying up-to-date with web changes. Eric Lancheres, SEO expert since 2002, has been providing SEO solutions for medium and large businesses throughout the world. Currently one of the leaders in SEO, you can find more of his work at http://www.pandabreakthrough.com.