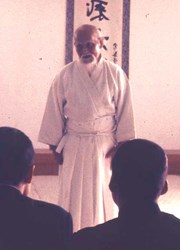 Palo Alto, CA (PRWEB) September 18, 2013
Sofia University founder Dr. Robert Frager, along with Buddhist priest and author John Stevens, will host a two-day workshop exploring both in theory and in practice O'Sensei's most important principles: working with fire (yang), water (yin) and standing on the floating bridge of heaven. The workshop will begin on Saturday, October 5, 2013 with one-hour training intervals and will conclude with Zen calligraphy on Sunday, October 6, 2013. Training will take place in the Sofia University Dojo located at 1069 E. Meadow Circle, Palo Alto, CA 94303.
Robert Frager, PhD, is the founder of Sofia University and has practiced Aikido for 49 years. While living in Japan for many years, Dr. Frager was a personal student of Morihei Ueshiba, the founder of Aikido, known as O'Sensei. John Stevens, PhD, has written over 30 books on Aikido and related subjects. An accomplished calligrapher and curator of Buddhist art and calligraphy, he is also the author of Zen Brushwork: Focusing the Mind with Calligraphy and Painting.
Proceeds from the workshop will benefit the Sofia University Aikido Archive of more than 3,500 rare and unpublished photos of O'Sensei and his calligraphy. All fees associated with the event are as follows:
Full Weekend: $125.00
Saturday only: $75.00
Zen Calligraphy only: $60.00
Single Aikido Class: $25.00
All attendees are required to have at least six months training in Aikido and should wear an Aikido uniform and bring a bokken/jo. For Calligraphy class all guests are encouraged to wear comfortable clothes that can get dirty. Brushes and other materials for the calligraphy class will be supplied. The RSVP Deadline is October 2, 2013. To view the event schedule and purchase tickets click here: http://sofia.givezooks.com/events/exploring-o-sensei-s-aikido-japanese-calligraphy
About Sofia University
Founded in 1975, Sofia University (formerly the Institute of Transpersonal Psychology) is a private, non-sectarian university accredited by the Western Association of Schools and Colleges. For over 35 years, within the context of scholarship and research, the school has offered transformative education for the whole person, probing the mind, body, spirit connection. As Sofia University, the school is broadening its mission, reaching into multiple disciplines and adding undergraduate study. For more information, visit http://www.sofia.edu.
###