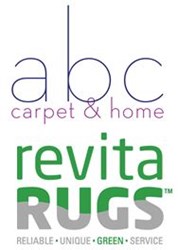 "Most impressive is revitaRUGS's process that uses environmentally-friendly cleaning products. We're also amazed by the results they achieve with all types of rug fibers, especially viscose," says Paul Chapman
South Hackensack, NJ (PRWEB) September 17, 2013
RevitaRUGS brings its knowledge, experience, and eco-friendly rug cleaning expertise to the discerning clientele of ABC Carpet & Home. Under the banner abc Rug Cleaning by revita, the service will have a dedicated phone number 855-418-4222.
Now, when ABC clients purchase area rugs, they will be guided to consult revitaRUGS for all matters of eventual cleaning - with a special emphasis on their chemical-free wash process -- and if necessary, repairs and restoration.
"We are proud and flattered that such a prestigious, visionary and globally concerned company as ABC Carpet & Home has reached out to partner with us," says Azita Goldman, VP Business Development at revitaRUGS.
RevitaRUGS guarantees its customers a thorough rug cleaning by utilizing a comprehensive system of proprietary chemical-free technologies and processes that safely cleans and completely removes pet odors, germs and bacteria, even Salmonella, E-coli, and Staphylococcus. Area rugs act like air filters and proper chemical-free cleaning is essential to healthy indoor air quality.
RevitaRUGS also makes the world a little cleaner, greener, and healthier by:

Using purified soft water and organic cleaning products that are highly effective and environmentally safe.
Deploying a fleet of Sprinter BlueTEC vans that are fuel efficient and eco-friendly.
Energy efficient facilities include a technologically advanced drying process, high efficiency lighting, including LED.
Office is virtually paper-free.
"We are always excited to do business with a company that shares our sensibilities about creating a better world," says Paul Chapman, Vice-Chairman of ABC Carpet & Home. "Most impressive is revitaRUGS's process that uses environmentally-friendly cleaning products. We're also amazed by the results they achieve with all types of rug fibers, especially viscose."
The mission of ABC Carpet & Home is to be a socially responsible business that offers cause-related products, which create a new green economy for a healthy planet and people.
ABC is a fourth generation family business best known for its eclectic and exquisite selection of home furnishings, apparel, gifts and fabrics catering to both adults and children. For more information go to http://www.abchome.com.
More information about revitaRUGS can be found at http://revitaRUGS.com.
About revitaRUGS
RevitaRUGS started in Italy, where handmade rugs are the staple of every stylish home. In order to preserve the fine quality of these rugs and insure the health and safety of their owners, the company's founder, Hamid Zarei, developed a new way to care for fine and antique rugs. Utilizing an innovative technology that restores life and revitalizes the rugs with purified soft water and pure organic additives, Zarei's professional rug cleaning method even handles the most delicate silk, viscose, natural fibers, Persians, and Orientals with ease. RevitaRUGS has been servicing the New York Metro area, receiving excellent praises from the rug merchants and consumers alike. RevitaRUGS not only cleans but revitalizes and restores rugs, purging them of dirt, bacteria, dust mites, allergens, pet odors, and chemicals, while removing the toxic residue left by previous rug cleaners.