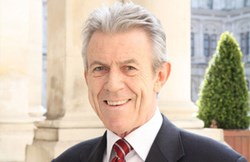 "It is a great privilege to have been given this opportunity to represent the United Kingdom in Belize."
San Ignacio, Belize (PRWEB) September 19, 2013
The owners and staff of Belize's The Lodge at Chaa Creek have welcomed the arrival of the new British High Commissioner to Belize, H.E. Peter Hughes, who is taking up his duties just as the tiny Caribbean country prepares for its 32nd independence day celebrations on September 21.
General manager and co-owner Lucy Fleming said that Belize, which was formerly the crown colony of British Honduras, has always enjoyed a healthy relationship with the UK, a connection that stretches back to Belize's first English settlers, known as the Baymen, continued throughout the country's colourful history, and still remains vibrant after Belize achieved independence from Great Britain in 1981.
"Many visitors to Belize are surprised to see the portrait of Queen Elizabeth II on our money and in most public offices in Belize," she said, "In fact, a large number of Belizean homes have a picture of the Queen hanging in their living rooms. The affection for the Royal Family is as strong as ever."
Belize is the only Central American nation to have English as its official language, and Queen Elizabeth II remains popular as the country's head of state, represented in Belize by the Governor-General, who is currently Sir Colville Young.
Ms. Fleming explained that while Belize is a true cultural melting pot, comprised of Maya, African, Spanish, Mestizo, European, Lebanese, East Indian, Asian and other ethnic groups, the country's British heritage is an essential part of the national identity.
Queen Victoria made Belize an official crown colony of British Honduras in 1871, and the country was granted independence by Queen Elizabeth II in 1981. Currently, Queen Elizabeth II's official title in Belize is "Elizabeth The Second, by the Grace of God, Queen of Belize and of Her Other Realms and Territories, Head of the Commonwealth".
When in Belize, or performing duties on behalf of Belize abroad, she is referred to as "Queen of Belize." The Heir apparent is her eldest son, Charles, Prince of Wales, who is expected to be crowned King of Belize upon his accession to the throne.
Belize is not unique in this status; it is one of sixteen states having "Commonwealth realm" status within the 54 member Commonwealth of Nations. Commonwealth realms are totally independent of each other, although they share the same monarch.
The role of the British High Commissioner therefore has both ceremonial and practical aspects and remains an important link to the British Government for many Belizeans as well as visiting British subjects, Ms. Fleming said. For example, the British High Commission in Belize assists in financing the training of the Belize Defence Force and police personnel and maintains an interest in various diplomatic endeavours, such as the ongoing territorial negotiations with neighbouring Guatemala.
Ms. Fleming said that she and her husband Mick, who was born in England, share the same affection for the UK that most Belizeans do and always look forward to visits from the Royal Family.
Most recently, Prince Harry received an enthusiastic nationwide reception during his visit to celebrate the Queen's Diamond Jubilee in March 2012.
During that visit Prince Harry enjoyed an overnight stay at Chaa Creek, during which time the Flemings described him as a friendly, down-to-earth guest.
Ms. Fleming said she and her husband look forward to enjoying the same warm relationship with Mr. Hughes that they enjoyed with previous British High Commissioners.
"We've always enjoyed a great relationship with the High Commissioner and his office and look forward to more of the same," she said.
Mr. Hughes replaces Pat Ashworth, who is retiring from the diplomatic service. Upon his appointment, Mr. Hughes said: "It is a great privilege to have been given this opportunity to represent the United Kingdom in Belize. I hope to build on the enduring friendship between our two countries and look forward to working closely with the Government and people of Belize to support our shared objective of a secure and prosperous future."
Ms. Fleming said that Mr. Hughes' arrival in Belize couldn't have come at a better time, as he'll be able to experience Belize's wildly enthusiastic Independence day celebrations first hand.
"I can't think of a better introduction to Belize than during the September celebrations when everyone is in such good spirits. I have a feeling he'll enjoy himself immensely, and after such a cheerful introduction and then taking in Belize's many attractions and familiarizing himself with our friendly population, I'm sure he'll settle in quite nicely," she said.
The Lodge at Chaa Creek is an award-winning eco resort set within a 365-acre private nature reserve in Belize.