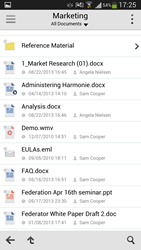 Boston, MA. (PRWEB) September 17, 2013
Rampant use of unsanctioned mobile apps for file sync and storage such as Dropbox causing huge problems for organizations. In fact, a newly-released study of enterprise workers found that a 41 percent of users circumvent company controls by storing corporate documents on unsanctioned, publicly-accessible cloud services. This translates into a huge number of 'rogue IT' workers who tap into unsanctioned services from their smartphones and iPads, creating risks for their employers.
If this wasn't bad enough, 50 percent of these new mobile enterprise devices are Androids*, which is "a primary target for malware attacks," according to a new US Homeland Security report. The same report finds that "Android is responsible for the vast majority of known mobile malware (79 percent).
The bottom line is that organizations that need to provide secure access to corporate documents and social networks via mobile devices are facing huge risks of data leaks and IT governance violations, if not business meltdowns due to loss of control. The previously-mentioned study of enterprise workers found that over a quarter of workers (27%) who shared a document using unsanctioned cloud service suffered negative repercussions, ranging from lost business to law suits and financial penalties.
harmon.ie to the Rescue
Good news! Secure document access problems are a now a thing of the past, because harmon.ie today has released 'harmon.ie for Office 365 and SharePoint' for Android devices. This new app is the first enterprise-grade, Office 365/SharePoint app for Android.
The new Android app rounds out harmon.ie's suite of mobile, desktop, and cloud applications for Office 365 and SharePoint. Products in the suite provide non-technical business workers full-featured access to Office 365 and SharePoint anytime, anywhere. Today's harmon.ie for Android users will join the 1.3 million business users who already enjoy harmon.ie in Outlook and Notes on the desktop, and on iOS and BlackBerry mobile devices, as well as Outlook Web App (OWA) in the cloud.
Key MDM Industry Endorsements
As part of today's product rollout, harmon.ie is also announcing key partnerships with leading MDM vendors to certify harmon.ie mobile products The partnerships provide confidence to enterprise customers that harmon.ie's mobile products for iOS and Android are certified for use with trusted MDM offerings. Partnerships have been announced with Airwatch, Citrix, Good Technology, MobileIron, and Samsung KNOX.
"We are extremely proud to round out our mobile offering with today's Android release as well adding an illustrious set of leading MDM vendors as trusted partners," said David Lavenda, VP Product Strategy at harmon.ie. "These new additions insure that customers now have secure and scalable mobile access to the document storage systems in which their organization already has a significant investment; Office 365 and SharePoint, no matter what mobile devices they use. Now that organizations can provide an easy-to-use mobile app for secure document access on all platforms, rogue IT can be shut down in an amicable and cost-efficient manner, to the satisfaction of workers and IT alike."
Availability
harmon.ie for Android is available immediately and is sold on a subscription basis. Pricing starts at $4 per user per month. Learn more about harmon.ie for Android. A read-only, free version of the product can also be downloaded from Google Play.
About the harmon.ie Suite of Apps
harmon.ie apps provide the ability to edit and share Office 365 and SharePoint documents and reach out to colleagues using Office 365/SharePoint social capabilities. harmon.ie also provides real-time updates when colleagues edit important documents; colleagues can then be contacted with a single click. Workers can expand their social networks by adding colleagues from the mobile device's contact list and keep up to date with harmon.ie's unified activity stream of collaboration updates. For more about harmon.ie Mobile, click here.
About harmon.ie
harmon.ie, the user experience company for the mobile enterprise, provides products that deliver a consistent user experience on mobile devices, the desktop, and the cloud, for a host of social and collaboration platforms from vendors such as Microsoft and IBM. Thousands of businesses including Citi, DuPont and BAE Systems already use harmon.ie to become mobile enterprises.
*Austin, Tom, Cloud-Based Office Systems: Google vs. Microsoft, presented at Gartner PCC Conference, San Diego, CA, May 2013