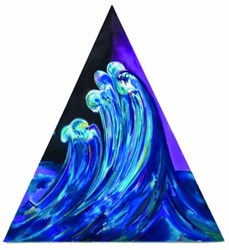 It's a thrill to introduce some of Brooklyn's most important young artists to New Jersey art lovers.
Englewood, NJ (PRWEB) September 17, 2013
One River Gallery, northern New Jersey's newest contemporary art gallery, is presenting its second annual "Two River" exhibition through November 17. "Two River" is curated by the gallery's founder Matt Ross, and features works by five female artists who live and work in Brooklyn, NY.
"Over the past year, I've been amazed by the unique artistic infrastructure that's developed in Brooklyn," says Ross. "There's no doubt that we'll look back at this fertile locale and appreciate the tremendous output of the artists who reside there, especially the impressive contributions from emerging female artists who call Brooklyn home."
Participating artists in "Two River" include painter Mira Dancy, a graduate of Bard College and Columbia University School of the Arts; painter Amy Lincoln, whose work has been shown in France and China; painter Yengeniya Baras, a graduate of University of London and University of Pennsylvania; painter Lauren Portada, whose work has been shown at Indira Gandhi National Center of Art in New Delhi, India; and painter/sculptor Eve Lateiner, a graduate of University of Pennsylvania whose work has been shown at MOMA P.S. 1.
The artists who are featured in "Two River" work in two distinctly different areas. Baras, Lateiner, and Portada are greatly influenced by process, material, and abstract painting. While there are similarities between the three, each artist has developed a differentiated style that allows her work to present a unique point of view. Dancy and Lincoln create figurative paintings that add overlays over classically rich themes. These enhancements allow the artists to capture a very individualized perspective utilizing bold color choices and slightly offbeat characterizations.
"I've developed a strong respect for the talent of the five artists who I've chosen to participate in 'Two River'," explains Ross. "It's a thrill to share their work with New Jersey art lovers, cultivate connections within our community, and introduce some of the most important young artists working two rivers away from Englewood."