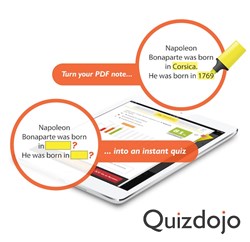 It's like having a private tutor who asks you questions and reminds you to strengthen your weak points
(PRWEB) September 25, 2013
Quizdojo, a virtual study app for the iPad, has become available to the public in order to assist students with exam preparation. Students will have the ability to create an instant quiz from their PDF notes, making it easier for them to remember key elements of lectures in order to get high scores on their exams. When an important exam is imminent, and the student doesn't have a study partner, Quizdojo is conveniently available to assist the student in automatically creating a self-exam to remember crucial terms and concepts. Quizdojo is a great replacement to traditional hand-written study tools, such as making flashcards and flipping through multiple pages of quickly written lecture notes. Because it eliminates the necessity of hand-written study tools, the app also can be considered environmentally friendly, reducing the amount of paper waste required for a successful study session.
"It's like having a private tutor who asks you questions and reminds you to strengthen your weak points", says Simon B, an RMIT student.
Quizdojo has many features to assist students, to include the ability to highlight, underline, and strikeout words on PDF notes in different colors, allowing for categorization of important information. The app also has a grading tool that shows which questions were answered correctly and incorrectly. As an additional benefit, Quizdojo can auto-suggest questions which the user has consistently answered incorrectly, therefore helping the student become knowledgeable of all information which will be on an exam. The app boasts additional capabilities such as the ability to import and share the PDF from Dropbox, email, Safari, and iTunes. Notes can be stored in virtual folders, allowing for the categorization and storage of important notes. Quizdojo also includes a support zoom pad for more accurate writing, and a supporting wrist protector to let the user rest his or her palm while writing.
Watch the Quizdojo video to see why do you need it: http://www.youtube.com/watch?v=VqSquCCgcyA
To see additional benefits of the app please visit http://www.quizdojo.com
About Mobilebuster.com:
Mobilebuster.com is a software development company which specializes in education and productivity apps. Mobilebuster.com currently has two award-winning apps, including Slingnote and Quizdojo.
For additional information, visit the website at http://www.quizdojo.com, or e-mail sales(at)quizdojo(dot)com.