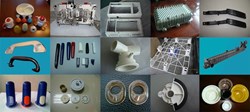 (PRWEB) September 17, 2013
A well-known injection molding company Wuxi Glory Plastics has recently showcased its new designs at its website, and announced a special offer, up to 30% off, on all its products.
The new designs include a great collection of plastic caps, EIFS fasteners, auto parts, plastic bottles, medical containers, PVC bottles, handles, and more, which have been shown the APPLAS 2013, where many clients have shown great interest in these new products and technologies.
With much experience in the industry, Wuxi Glory Plastics has been a leader in injection molding and blow molding, offers many popular products ad designs worldwide, like plastic caps, EIFS fasteners, auto parts, and more. Now, all the clients can enjoy similar discounts, up to 30% off, on these items. The CEO of the company ensures that all clients will be satisfied with their quality and designs.
The CEO of the company says, "All the staff is ready to service every customer. We are proud to make the latest innovations available to the customers at affordable prices. Our quality standard is at a very high level, and it expands the possibilities for the user to make more profits."
Wuxi Glory Plastics is a China based enterprise which deals in supplying high end plastic products. It works through its site interface plastics-molding.com. The company offers high caliber items at reasonable costs and this is the reason it has secured the rank of being an industry guide.
For more details about our products and services please visit: http://www.plastics-molding.com/Blow_Molding.htm.