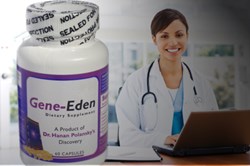 We kept hearing crazy stuff from medical doctors. Some have the idea that latent viruses don't replicate and so they don't harm people. Clearly, these individuals are not well informed about the role of latent viruses in disease. – Mike Evans, polyDNA
Rochester, NY (PRWEB) September 18, 2013
Most members in the medical community still believe that latent (also called dormant) viruses are inactive and harmless. However, a recent study showed that the latent EBV promotes tumor progression. The problem is that there are no approved drugs that target the latent EBV. However, there are drugs that kill the active virus.
The authors of this study proposed a clever solution. The solution is called "oncolytic therapy." It first uses drugs that reactivate the latent virus. Then, it uses another drug that kills the active virus (1).
polyDNA would like to propose an even better solution. Use Gene-Eden-VIR to help the immune system target the latent virus directly.
As the study by researchers from The Wistar Institute noted, "latent infection can drive the formation of Burkitt's lymphoma (BL), Hodgkin lymphomas, nasopharyngeal carcinoma (NPC), and gastric carcinoma (GC). Latent infection with EBV is a major cause of post-transplant lymphoproliferative disease in immunosuppressed patients and greatly enhances risk of developing non-Hodgkin and primary CNS lymphomas in the HIV-positive population (1)."
The study also said that "Most EBV associated cancers contain viral DNA that exists predominantly as a latent infection in which only a limited set of viral genes are expressed. These latency associated genes are implicated in host-cell proliferation and survival, and latent EBV can directly promote tumor progression (1)."
polyDNA points out that the Wistar Institute study is consistent with the Microcompetition with Foreign DNA Theory proposed by Dr. Hanan Polansky as shown on the CBCD.net website (2). Dr. Hanan Polansky discovered that foreign DNA fragments, called N-boxes, cause most major diseases. When the foreign N-boxes belong to a virus, microcompetition between the viral DNA and the human DNA can lead to disease even when the virus is latent (dormant), or the viral DNA is broken into pieces and cannot express proteins. As predicted by Dr. Hanan Polansky, many studies (such as the Wistar study) found latent viruses in tumors.
"We kept hearing crazy stuff from medical doctors. Some have the idea that latent viruses don't replicate and so they don't harm people. Clearly though, these individuals are not well informed about the role of latent viruses in disease." – Mike Evans, polyDNA
polyDNA recommends a strategy that helps the immune system target the latent EBV virus through the use of Gene-Eden-VIR. This natural EBV remedy was proven to be safe and effective in a recent clinical study. The study was published in the peer reviewed, medical journal Pharmacology & Pharmacy, in a special edition on Advances in Antiviral Drugs on August 12, 2013 (3). The study showed that Gene-Eden-VIR reduced symptoms associated with an EBV infection. The study authors wrote that, "We observed a statistically significant decrease in the severity, duration, and frequency of symptoms (3)."
Doctors can view the Gene-Eden-VIR study here: http://www.scirp.org/journal/PaperInformation.aspx?PaperID=36101.
To learn more about Gene-Eden-VIR, visit: http://www.gene-eden-kill-virus.com.
References:
(1) http://www.ncbi.nlm.nih.gov/pubmed/24028149
(2) http://www.cbcd.net/index.php
(3) http://www.scirp.org/journal/PaperInformation.aspx?PaperID=36101
polyDNA is a biotechnology company that develops dietary supplements using the unique scientific method developed by Dr. Hanan Polansky, which is based on Computer Intuition.
In addition to his unique scientific method, Dr. Polansky published the highly acclaimed scientific discovery, called Microcompetition with Foreign DNA. The discovery explains how foreign DNA fragments, and specifically, DNA of latent viruses, cause most major diseases.
polyDNA developed Gene-Eden-VIR, an antiviral natural remedy that helps the immune system kill latent viruses.