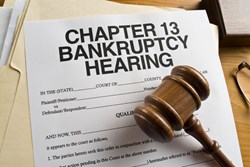 I am looking forward to sharing some of my experiences, which I hope will guide other attorneys in this field
Raleigh, North Carolina (PRWEB) September 18, 2013
Triangle Bankruptcy Attorney Dennis Sargent will be teaching a class about the differences between Chapter 13 and Chapter 7 bankruptcy this month.
The class, "Why Chapter 13 Bankruptcy is Better for Your Client than Chapter 7," takes place Sept. 26 at the Raleigh Marriott City Center, 500 Fayetteville Street, Raleigh, N.C.
The class is part of Continuing Legal Education, aimed at financial and legal professionals, but the class is open to the public. The class topics include bankruptcy qualifications, preparation of Chapter 13, what to expect, the role of a Chapter 13 trustee, and secured claims other than mortgages.
Mr. Sargent was chosen to teach the class because of his legal experience and knowledge of bankruptcy. Mr. Sargent has practiced law for over 16 years in a variety of practice areas.
He said he expects most students to be new lawyers considering a practice focusing on bankruptcy.
"Helping people looking for financial relief is a rewarding job, but it's important to know the many different solutions, which, for some clients, may not always include bankruptcy," Mr. Sargent said. "I am looking forward to sharing some of my experiences, which I hope will guide other attorneys in this field."
Details
Class: Why Chapter 13 Bankruptcy is Better for Your Client than Chapter 7
Date: Sept. 26
Location: Raleigh Mariott City Center
Cost: $179
Register: Pre-registration is required. Call (800) 648-8604.
Learn more: http://bit.ly/1fQZx8i
About Dennis Sargent Jr.
Dennis Sargent is a local race car driver and attorney at The Law Office of Dennis Jay Sargent Jr., PLLC. LODJS is a debt relief agency, helping people in the Raleigh and Cary area file for Chapter 7 or Chapter 13 bankruptcy relief under the United States Bankruptcy Code. He is a proud member of the National Association of Consumer Bankruptcy Attorneys and the American Bankruptcy Institute. Learn more at http://www.sargentlawnc.com/.
###