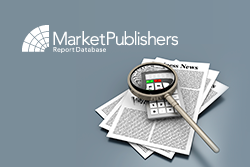 London, UK (PRWEB) September 17, 2013
MarketPublishers.com announces that a new research study on the monomethylhydrazine (CAS 60-34-4) market created by BAC Reports is available in its catalogue.
The newly published report "Monomethylhydrazine (CAS 60-34-4) Market Research Report 2013" offers in-depth insights into the worldwide monomethylhydrazine market. It provides a comprehensive product, which contains the important information on the product's composition and potential health hazards, identifying handling, storage and transportation requirements, and also characterizing the monomethylhydrazine's properties. The research study reviews the major production methods as well as scrutinizes key application areas of monomethylhydrazine.
The report presents an extensive guide to the world monomethylhydrazine market, delves into the competitive landscape and offers profiles of the leading and niche market participants. The report reviews key monomethylhydrazine consumers in the main end-use sectors, and discloses regional prices for the product.
Report Details:
Title: Monomethylhydrazine (CAS 60-34-4) Market Research Report 2013
Published: September, 2013
Price: US$ 2,650.00
http://marketpublishers.com/report/industry/chemicals_petrochemicals/monomethylhydrazine_60-34-4_market_research_report.html
The regional monomethylhydrazine markets covered in the research study include Asia, North America and Europe.
The companies profiled in the report include: Herakles, CMS Chemicals, Finetech Industry Limited, Amadis Chemical Co., Atomax Chemicals Co., Dongli (Nantong) Chemicals Co., Shanghai Hanhong Chemical Co., Hangzhou Sage Chemical Co., Hangzhou Dayangchem Co., Haihang Industry Co., Huairen Yulong Chem Co., Shanghai Conson Industrial Co., Skyrun Industrial Co., Struchem Co., 3Way Pharm Inc., 9W Pharmaceutical Technology Co., Finetech Industry Limited, Japan Finechem Company, Tokyo Chemical Industry Co., Arch Chemicals Inc., Sigma-Aldrich Corp and Wonda Science Inc.
Reasons to Buy:

The report enhances knowledge of monomethylhydrazine significantly by providing a comprehensive product profile.
In-depth analysis of the monomethylhydrazine market helps to get a clear understanding of the actual market state.
Review of the regional prices allows to determine the most promising geographical markets.
Insights into the competitive landscape help to gain an edge over the rivals.
Company profiles help to get an idea of who stands where in the market and to choose prospective business partners.
Extensive overview of the monomethylhydrazine market allows to elaborate effective market-penetration or business-expansion strategies and make accurate business decisions.
More CAS chemicals reports by the publisher can be found at BAC Reports page.