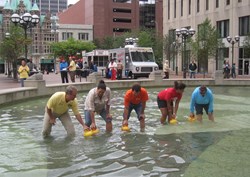 I got in the fountain…and then I fell in the fountain. The water was so cold, and I was soaked, but it was worth it to make a splash for a good cause.
Dayton, Ohio (PRWEB) September 18, 2013
Foundation Financial Group employees participated in Ducks on the Square, a relay race held in support of United Rehabilitation Services. To help URS promote its upcoming 2013 Rubber Duck Regatta, Foundation Financial Group joined other URS sponsors in the Courthouse Square.
"I got in the fountain…and then I fell in the fountain," said Lawson, whose fall was captured and aired by Fox45. "The water was so cold, and I was soaked, but it was worth it to make a splash for a good cause. I just kept thinking of how much pain the disabled clients of URS face, and it made being soaking wet in the cold seem trivial at best."
A positive perspective came in handy during the Ducks on the Square event. For one challenge, contestants waddled with an inflated duck ring around their ankles while flapping their arms like a bird and blowing a whistle. Team members also climbed in to the fountain to race their corporate ducks in the water. Other relay tasks were comparatively simple, requiring participants to walk quickly with a large rubber duck balanced on their heads.
Cold and windy weather conditions did not hinder FFG employees' spirit at Ducks on the Square. They got creative to setup a windproof information table that showcased Foundation Financial Group's philanthropic partners and detailed its mortgage, insurance, and retirement services. While Team FFG did not win the relay race, the employees considered the laughter and fun they shared in attempting each duck-themed challenge to be the best prize.
"I did get a T-shirt for being the wettest, but I think they just made that category up at the last minute because they felt sorry for me," continued Lawson. "I will be selling some ducks downtown on Friday night at Taste of Miami Valley, where I will hopefully stay dry. Of course the next day, I will be getting soaked at the Regatta when I help URS fish thousands of rubber ducks out of the river."
The 2013 Rubber Duck Regatta takes place on Saturday, Sept. 21 during the Taste of Miami Valley, which will feature food and drinks from over 30 local restaurants. Over 15,000 rubber ducks will be dropped into the Miami River, and the water's current will carry the flock to the finish line. Rubber ducks can be adopted at daytonducks.com until the day of the event. The adoptive parents of winning ducks will receive prizes donated by URS sponsors. Prizes include a brand new vehicle, airline tickets, a stay on a 6-bedroom houseboat, and a variety of gift cards.
Because of sponsorship from companies like Foundation Financial Group, 100 percent of the Regatta proceeds are going to support the clients of URS. United Rehabilitation Services seeks partnership with companies and the Dayton community to raise donations. Through a concerted effort to keep organizational overhead low, URS is able to devote every dollar raised to helping those with disabilities.
Originally founded in 1956 as the Dayton Chapter of United Cerebral Palsy, United Rehabilitation Services now provides daily services to more than 400 people with Cerebral Palsy, Down Syndrome, Muscular Dystrophy, Autism, Alzheimer's Disease, Pervasive Developmental Disorders, and many other disabilities. URS services include therapy programs, transportation assistance, and vocation programs. As a member of the Better Business Bureau, URS programs adhere to rigorous charitable giving standards, and URS services are accredited nationally and locally.
About Foundation Financial Group
Foundation Financial Group is a multibillion dollar financial services corporation. FFG offers its customers Best in Class service through its Insurance, Retirement, and Mortgage Services. Named one of the fastest growing financial companies in the country by INC magazine for the third year running, FFG has continued to grow its nationwide presence with over 100,000 new customers per year in 39 states. In addition to the value that Foundation Financial provides every customer, it is also dedicated to its communities and the people who live in them. Through a vast array of philanthropic endeavors, the company not only provides significant monetary donations but also fosters a workforce environment that encourages all team members to personally make a difference. Foundation Financial is committed to its strong focus on customer service and community investment as it continues to grow and compete with the largest financial institutions in the world.
Foundation Financial Group reviews all public relations inquiries. For additional information, interview and image requests, contact the Foundation Financial Group Public Relations Team.