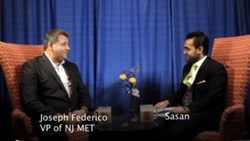 Clifton, NJ (PRWEB) September 18, 2013
NJ MET announced that Chip 1 TV's web interview with Joseph Federico, its Vice President and Director of Operations, has been published on Youtube.com. Mr. Federico was interviewed by Sasan Tabib of Chip 1 about NJ MET's electronic component testing and risk management capabilities as well as the important role of electronic component testing in the distribution of components. Mr. Federico described NJ MET's Mission Imposter risk mitigation counterfeit detection program, a multi-step series of test to check on the functionality and authenticity of electronic components. The wide ranging discussion included Joseph Federico's views of leadership and public speaking.
The interview is available at http://www.youtube.com/watch?v=zOL9vTylxlk.
NJ MET provides professional electronic component testing to the Commercial, Military, Aerospace, Industrial and Automotive fields worldwide. Its state of the art Mission Imposter® Counterfeit Components Detection Process identifies counterfeit or cloned products. You can visit the NJ MET web site at http://www.njmetmtl.com for a full list of their testing services. NJ MET's main laboratory and corporate headquarters is located in Clifton, NJ, with sales offices in Los Angeles, Denver and London.