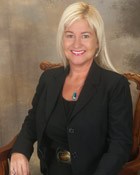 Greensboro Condominium and Homeowner Association Manager to serve on the Guilford College Board of Visitors.
Greensboro, Winston Salem, NC (PRWEB) September 19, 2013
May Gayle Mengert, Vice President of Association Management Group (AMG) will serve on the Guilford College Board of Visitors, which works as an informal advisor, goodwill ambassador, and sponsor of special educational programs that bring together community, business, and educational leaders at Guilford College. Paul Kress, Chair of the Board of Visitors says, "It is our ultimate goal to maintain and improve the excellence, and assist with enhancing the skills, knowledge, and values students need to succeed in the 21st century. Additionally, we strive to be a resource to the college's leadership by sharing the viewpoints and feelings of the community at-large with respect to Guilford College."
Ms. Mengert, originally from Thomasville, NC, co- founded Association Management Group with husband Paul Mengert in 1985. AMG has utilized state-of-the-art management systems to enable Homeowner Association (HOA) communities in North and South Carolina to operate more efficiently, increase member satisfaction and boost property values.
Mengert, a 1982 graduate of Guilford, says, "I look forward giving back to Guilford College and bragging about their great programs."
With 6 locations in the Carolinas, AMG features state of the art management techniques as well as hands on customer service that have enabled AMG to obtain better than 98% overall customer satisfaction. May Gayle comments, "Guilford College helped me to develop and utilize the skills we use every day to deliver high satisfaction to owners in communities we manage."
AMG's unique and proprietary management systems allow them to offer a consistently higher quality of service than their competition. The six independent AMG companies manage over 300 condominium, townhome, and planned unit developments from their offices in Greensboro, Winston-Salem, Research Triangle Area, Asheville and Charlotte, North Carolina, and Greenville/Spartanburg, South Carolina. AMG's philosophy is simple: "Provide superior performance at a competitive price."
To learn more about the company, visit http://www.amgworld.com or http://www.hoacarolina.com or watch a short AMG Introductory Video.
About Association Management Group, Inc. (AMG):
An effective community association must have effective management in order to protect the interests of the residents within their community. AMG is the company to provide such management. Enforcing the rules and covenants of a planned community is no small task; this enforcement often consumes budgets and adds undue stress to officers that help manage the community. AMG has a proven set of processes to help manage these concerns. AMG can also assist Community officers with contracts and insurance and provides a full range of audit services to protect the community's interest.