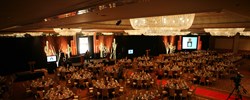 The production last year was great!. Looking forward to this year. Thanks August West!
Tucson, Arizona (PRWEB) September 19, 2013
August West Audio Visual Rentals And Productions has been involved with this event for six years. categories include work environment, growth, community stewardship, innovation and leadership.
"Our region's small businesses are one of the most vital sectors of our community. We are celebrating the backbone of American business, the small business operations that employ the most people and create the greatest part of the GNP," said Michael Varney, Tucson Metro Chamber president and CEO.
The Tucson Metro Chamber Copper Cactus Awards will be held on Friday, September 27 2013 at The Westin La Paloma Resort & Spa.