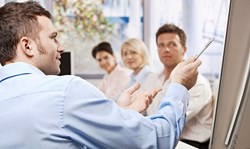 (PRWEB UK) 19 September 2013
The first edition of TRADOLOGIC Binary Seminar will take place on 21-23 of October, 2013 in Sofia, Bulgaria. The participants in the event will have the chance to get acquainted with the binary options market and TRADOLOGIC's innovative products. The ultimate goal of the seminar is for TRADOLOGIC to share profound binary insight with its clients and help them succeed in the binary world.
The event will take place in a high quality accommodation where top lectures and top entertainment will be provided. The event agenda consists of lectures on key topics regarding the binary business, presentations of TRADOLOGIC's new products, as well as a visit to the company's office.
The main topics covered in the three-day seminar include an overview of the binary market, establishing company structure and workflow, regulation and unregulation, marketing and affiliation, search engine optimization, creative and user interface. Some of the lectures at the event will be focused on TRADOLOGIC's products and services as well as how to use TRADOLOGIC's tools in the most effective manner. There will be trainings about Sales, Retention and Support, Retention analysis tools, Retention front end tools, Processing, Bonuses, Fraud Prevention, Business Intelligence, Reporting and Analysis and Risk Management.
In addition, there will be a useful Questions & Answers session and an evening cocktail where participants can share business ideas and binary expertise. TRADOLOGIC's team pioneers in the binary field and possesses a firsthand insight in this industry that they are eager to share with all event attendees.
About TRADOLOGIC:
TRADOLOGIC is the global leader in the financial trading industry with technology built specifically for the binary options trading market. TRADOLOGIC's technology and trading platforms have been extensively refined and enhanced. The company's products include option types, trading tools, full packages and integration solutions. With these innovative products TRADOLOGIC provides its partners the necessary tools for a successful binary business.