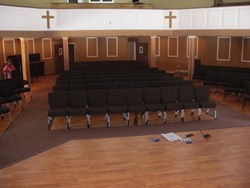 (PRWEB) September 19, 2013
Freedom Steel has always seen the "bread and butter" of their direct-to-consumer base as Shop Buildings and Barns. "Our buildings are used for everything like hangars and warehouses, but when it comes to the do-it-your-selfer, a customer considers his shop as his sacred 'temple'; and every horse-owner sees her barn as her 'sanctuary'," says Freedom Steel's General Manager Jeff Garfield. "Lately, however, it is has been actual places of worship that have become one of our biggest sellers in recent months." Garfield explains that Freedom Steel has always provided buildings for churches and fellowship halls of all sizes, some as large as 38,000 square feet, both domestically as well as overseas. However, what once accounted for nine or ten church-type buildings per month, is now six to eight such structures per week.
Why the sudden increase in using steel buildings for places of worship? Garfield believes it is that same do-it-your-selfer mentality. "These are much larger projects than your average shop or barn, but churches and temples are now finding that a Freedom Steel building can actually save them money because they do not have to hire huge construction crews that charge exorbitant amounts of money." The concept behind a prefabricated steel building is the ease of erection. Construction crews are therefore being replaced by parishioners getting together on weekends in droves to get their house of worship up. In a sense, the steel building not only becomes a better economic solution for the congregations, but it also provides a vehicle for a closer community and feeling of community within the membership.
We often hear about churches closing their doors in the U.S. But some may be surprised to hear that the total number of churches is not in decline anymore. An important shift happened in recent years, according to researchers Ed Stetzer and Warren Bird. After decades of net decline, more U.S. churches are being started each year than are being closed. The credit largely goes to the recent increase in enthusiasm for church planting. Stetzer, who leads LifeWay Research, says church planting has become the "it" thing right now and the new evangelism. So many new churches are springing up that Stetzer and Bird believe the U.S. is on the edge of seeing a major breakthrough in church multiplication, they write in the newly released Viral Churches: Helping Church Planters Become Movement Makers.
With the research showing the rise in church planting, coupled with the increased awareness of a steel building as an ideal solution (both economically and spiritually) for a house of worship, Freedom Steel expects to triple sales in this building category by the end of 2013.
ABOUT FREEDOM STEEL
Freedom Steel's buildings are shipped factory direct from any one of their 18 factories across the continental Unites States. Freedom Steel also provides buildings for anywhere in the world, including a heavy concentration in the Caribbean and Canada; as well as projects in Central and South Americas, Africa and Europe. Freedom Steel's factories have the ability to construct prefabricated buildings of any size with clear-span options as wide as 250'. Along with all of the government funded projects, Freedom Steel ships hundreds of buildings per year to customers needing barns, garages, riding arenas, gymnasiums, churches, workshops, residences and more. Stamped, certified and state sealed drawings are included for every project. Freedom Steel buildings come standard with such "upgrades" as PBR roof and wall panels, pre-welded clips and pre-punched door openings. They also offer an array of accessories for the consumer including garage and entry doors, windows, insulation, vents, skylights and canopies. Freedom Steel's international headquarters is located in Delray Beach, FL, where any and all (potential) customers are welcome to visit anytime. For more information, please contact: Jeff Garfield at 1-800-630-2846 or visit online at http://www.freedomsteel.com.