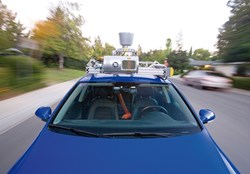 32% said that 'driverless' cars will add to a road users' safety
Manchester, UK (PRWEB UK) 25 September 2013
With two motoring-related technological advances being announced - the EU is considering introducing satellite speed limiters that will limit the speed of all cars to 70 mph, and driverless vehicles may be introduced in the next decade - online car finance specialist Carfinance247 asked British motorists what their views are.
The study* revealed that, when asked: Do you agree with the introduction of 70mph speed limiters being fitted to all new UK cars?

overall, the public were equally split, with 49% saying "yes" and 51% saying "no";
69% of female drivers agreed to the introduction of speed limiters compared to just 34% of male motorists;
65% of those in the 30-39 age band were the most pro-speed limiters being introduced while those in both the 40-49 age bracket and those aged 50-59 were most against it (58% and 57% respectively);
63% of people said they felt that having 70mph speed limiters could actually be dangerous when driving (for example, when trying to overtake on a UK motorway).
The poll also asked: Driverless cars may be introduced in less than a decade - would you be comfortable in a self-driven vehicle?
over two thirds of respondents (69%) said "no";
nearly a quarter of males (24%) said they would use a driverless vehicle compared to 40% of females;
nearly half those who answered said they felt that human error is less dangerous than computer error; and, that the idea is "too scary" and "like something out of a sci-fi film";
32% said that it will create more unemployment.
32% also said that overall, they will add to a road users' safety.
Emily Henshall, Marketing Manager, at Carfinance247 says: "We all rely on technology in our everyday lives, from using computers, making calls, watching TV, and even simply boiling a kettle. It is interesting that with travel, people will use a plane with autopilot but do not feel as comfortable using a car with the same functionality".
Ends
*Survey carried out on behalf of Carfinance247 by Usurv, September 2013
Contact:
Emily Henshall, Marketing Manager, Carfinance247.co.uk, telephone: 0800 019 7180 or email: emily.henshall@carfinance247.co.uk
About us:
Founded in 2000, carfinance247.co.uk is a privately owned business with offices based in central Manchester. We provide vehicle financing solutions for all financial circumstances such as hire purchase, personal contract purchase, contract hire and other leasing options. No deposit is required and we give you the choice of buying any car from any dealer nationwide. Or, if you prefer, we can supply and deliver any make and model of your choice.
Address: The Loading Bay
Albion Works
12-18 Pollard Street
Manchester
M4 7AJ