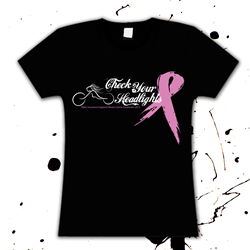 Springfield, NJ (PRWEB) September 18, 2013
Taking pre-orders now and available throughout the entire month of October, Rider will have "Check Your Headlights" t-shirts and magnets available for purchase online through Rider's Facebook page, http://www.facebook.com/RiderInsuranceCo, website, http://www.rider.com and online store, http://www.riderinsurance.storenvy.com. All proceeds from the sales of the shirts and magnets ($5 per shirt, $1 per magnet) will be donated to The Breast Cancer Research Foundation in an effort to fund research for a cure. Monetary contributions are also being accepted. The Rider Insurance Bleiwise Family Foundation will match every dollar raised. Join the fight against breast cancer and don't forget to Check Your Headlights!
Founded in 1971 by motorcycle enthusiast Harry Bleiwise, and built on his dedication to riding, Rider is currently the largest motorcycle insurance provider in New Jersey, and the only carrier serving the motorcycle community exclusively. Rider has been expanding its operations and is now providing coverage to riders on the highways and back roads of Delaware, Indiana, Maryland, Ohio, Pennsylvania, Virginia and West Virginia.
For more information on Rider Insurance, call 800-595-6393 or visit http://www.Rider.com.